James Vrooman was the son of Adam, a Captain in Butler's Rangers who was granted crown land in Queenston. He was the second youngest of seven children and youngest of five sons. His eldest brother was Solomon Secord Vrooman who was in the Lincoln Militia & who inherited his father's land. He was born on 22 Apr 1794.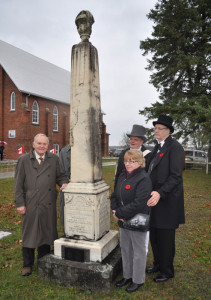 In 1812 James enlisted in the Glengary Fencibles at Three Rivers, a regiment of light infantry formed under Captain Macdonnell of the King's Regiment who reported to Major Francis Battersby of the King's Regiment who became Lieut. Col. & commandant. In March 1812 General Brock requested the promise of land grants in order to attract recruits from the western part of Upper Canada to increase the number of recruits to 400 needed for the Fencibles who initially came from the Glengary area and who had taken most of the junior commissions. Lord Bathurst sanctioned the regiment increasing it to 800 rank and file members and promised 100 acres of land to each man upon his discharge.
On 16 Oct 1812 on their way to the western seat of war in Upper Canada, eight companies of the Glengary Light Infantry staged an attack on an American post at Salmon River occupied by a company of New York Volunteers who had attacked the Indian village of St. Regis. They expelled them from their position which threatened navigation on the St. Lawrence River and they surrendered.
During that winter they were quartered in the Cornwall, Prescott, Kingston area to keep open the communication line with Montreal.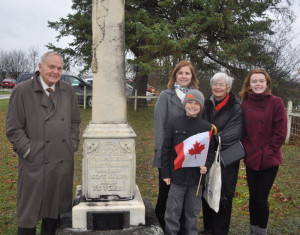 In mid February 1813 Glengary Light Infantry took part in the attack of Ogdensburg by crossing the ice to engage the 800 Americans. In March and April they made their way to the Niagara frontier, pursued the enemy after Stoney Creek and endured forced marches to Burlington and York. In July they were at Fort George observing the movements of the American fleet. On October 9 & 10 under the command of Lt. Col. Battersby they had to cover the movement of the corps from Fort George to Burlington Heights. In November the regiment was quartered in Burlington and in that winter in York and Kingston.
In 1814 the light company of the regiment covered the landing of troops attacking Oswego and in July, under Battersby, engaged with US riflemen & militia at Lundy's Lane. After Oct 1814 there were no further military operations and the regiment was disbanded and NCO's and privates received grants of land in various parts of Upper Canada as well as provisions & carpenter's tools.
James Vrooman received his in Perth where he stayed until 1818 when he disposed of it and drew Lot 6 Conc 7, Brock Township where he settled in 1820. The area became Vroomanton, a village of 150 by 1869 in which he played a major role in its development by offering land for a gristmill and sawmill. When the railroad went through Sunderland instead of Vroomanton in 1871 the town withered away and became a ghost town.
Why did he join this regiment? My only guess would be that the opportunity to acquire land of his own (he would never get the family land) was a factor. Perhaps he was counselled to do so by his father and brothers who were committed to defend their lands. Perhaps at 18 he was ready to make his own mark and an opportunity presented itself. And perhaps he was just plain lucky to survive it all and at the age of 53 become Lieut. Colonel 17th Battalion, York.
Veteran Summary
James Vrooman
Colonel, Glengarry Light Infantry
Place of Birth
Niagara, ON, CAN
Place of Death
Vroomaton, ON, CAN
Died on: 01 JAN 1871
Reason: Unknown. (Month and Day are not known).
Location of Grave
United Church Cemetery Vroomanton, Concession 7 & sideroad 17A
Vroomanton, Brock Township, ON, CAN
Latitude: 44.26572N Longitude: -79.117975