In 1800, three siblings, Leslie Patterson, Mary Storey and Fanny Patterson moved from County Fermanagh, Ireland, to Harbour Creek, Pennsylvania, on Lake Erie. While there, Leslie Patterson married Lydia Backus from Vermont, and his sister Fanny married John Pearce from Rhode Island. The third sibling, Mary Storey, was a widow with three children, Walter, Anne and Sarah.  About this time, word was spreading that tracts of land in Upper Canada were opening for settlement.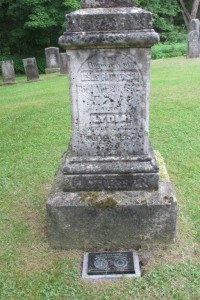 Patterson and his brother-in-law, John Pearce, scouted out this opportunity in 1808. They were drawn to a fledgling settlement on the north shore of Lake Erie that was under the control of Thomas Talbot. Talbot was offering settlers fifty free acres of good land and the possibility to buy more at $3 per acre. In addition, Talbot had provided his settlement with a grist mill, sawmill, cooper shop and blacksmith shop.
The Patterson family group were the type of settlers that Thomas Talbot was looking for. They were industrious, loyal, well-equipped and of Irish origin, like himself. Lots were chosen and on July 14, 1809, Patterson and Pearce brought their families and belongings, legend has it, in an open flat-bottom boat along the shore of Lake Erie. A hired hand and cattle travelled by land. A year later they were followed by Lydia's brother, Stephen Backus.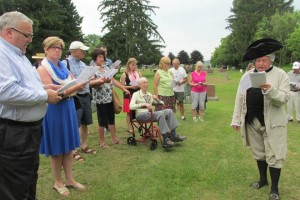 The Pattersons were flax growers in Ireland and they arrived with their flax wheels and looms. They settled in a cluster on Lots 10, 11, 12 and 13 Conc 10, Dunwich Township. Together they developed a tight-knit and prosperous family community along the cliffs overlooking Lake Erie.
In 1810 Leslie Patterson wrote to his father-in-law, Joseph Backus, in Pennsylvania, telling of their first year in the Talbot Settlement.
"Our crops all look remarkably well. We had a good crop of flax, between three and four acres of excellent corn and I expect to have fifteen or twenty bushels of peas. Our wheat came off lighter this season than it commonly does in this county on account of drought in the beginning of the season, but it is very good and we have got it very well saved, besides a large crop of beans and potatoes and as much as four hundred heads of excellent cabbages.

"I have got promising young stock. We have another very good cow and for the colt I sold when Stephen was with me I got a very likely pair of two-year-old steers and a pair of year-old bulls. We have got a good stock of hogs. I expect to be able to fat eight hundredweight of pork this fall and we have scarce ever been out of venison as good as ever was cut since we have been here."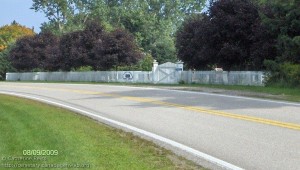 But, war was looming. Thomas Talbot was commissioned Colonel of the 1st Regiment Middlesex Militia in 1812. Leslie Patterson was commissioned one of the five captains for the militia. His two brothers-in-law, John Pearce and Stephen Backus, and two nephews, Benjamin Willson and Walter Story, were also in the militia. There are few records available about Captain Patterson's role, but it would appear he was often in charge at Port Talbot, which was Colonel Talbot's home and centre of control, when Talbot was elsewhere.
By 1814 the British had a very limited presence in the Western District. They had been forced back from Lake Erie and the Thames River valley. The local militia units were stretched to the limit defending the area and caring for their farms. Marauders roamed freely, hoping to capture local officers to disorganize the resistance of the militia. Colonel Talbot was a particular target. Consequently, in that year Port Talbot experienced at least six attacks:
11 Nov 1813 by Captain Westbrook
20 May 1814 by Captain Westbrook
16 Aug 1814 by  Captain Walker
8 Sept 1814 by Captain McCormick
15 Oct 1814 by Lieutenant Serviss
17 Nov 1814 by General McArthur
Attacks became more severe as the summer progressed.
Captain Leslie Patterson is mentioned in the following:
"On May 20 Port Talbot was attacked by thirty riflemen under the command of Andrew Westbrook. Fortunately, Colonel Talbot was at Long Point at the time. The settlement got a half hour warning and the settlers fled for a neighbouring township. Two groups of militia were called out but before they could be coordinated the enemy had entered the settlement and taken prisoner those who were left on guard. Patterson was captured at the blacksmith shop. He was paroled. The use of parole was common, particularly for militiamen who were captured whereby they would sign a document which pledged they would not take further part in the war.

"August 16  On this date, American militia and natives arrive at Port Talbot with the intent of taking Colonel Talbot. They also plan to ravage the settlement. This time Talbot is in residence and narrowly escapes. Talbot notices a large group of natives approaching and assumes that they are British supporters. Fortunately he sees that they are accompanied by Americans. Captain Leslie Patterson encourages him to escape out the back door. Talbot has a reputation for dressing like his settlers. Attired in his farm clothes, he walks slowly towards the ravine at the side of his house, descending the hill and crossing the creek. One of the Indians sees him and takes aim. Patterson seizes the rifle barrel and ingeniously tells him that his target is the Colonel's old shepherd and that calling him is futile as he is deaf. The Indian believes him and Talbot remains a free man."¹
In 1826 the Patterson family replaced their initial log house with a large frame house "Sunnyside". The Pattersons were Church of England adherents and welcomed travelling missionaries. Services as well as baptisms and the first confirmation in Elgin County were celebrated in this house. Over the ensuing years Leslie held a number of positions in the community. He was postmaster, magistrate, commissioner of roads, deputy to the land registrar, Mahlon Burwell, at times, and chairman of a gathering of landowners in 1817 to answer an agricultural survey. He was promoted to Lieutenant-Colonel of the 1st Regiment Middlesex Militia in 1837.
Shortly after being commissioned as a magistrate in 1821, Patterson became embroiled in a court case over statutory labour for road maintenance. A disgruntled settler, Singleton Gardiner had refused to do his statutory labour and was refusing to pay the fine incurred. When two magistrates, Patterson being one, compounded Gardiner's horse and wagon, Gardiner took them to court for trespassing. They were acquitted, but the case went on for a number of years and the community was divided in its loyalties between the "establishment," represented here by Patterson, and those who were agitating for reform, represented by Gardiner.
Patterson also was in a land dispute in Kent County. He was granted a lot which was discovered to have been settled for some time. When the original settler couldn't produce documentation he was ousted from the land and it was awarded to Patterson. This was perceived by some as an injustice in favour of a member of the establishment.
Leslie and Lydia Patterson had nine children.
Joseph 1807-1884
Walter 1808-1890
Mary 1810-1890
Hannah 1813-1913
Catherine Anne 1815-1896
Olivia 1818-1864
Leslie 1820-1825
Frances 1822-1881
Lydia 1825-1914
Colonel Leslie Patterson died on 26 Apr 1852 at 78 years and Lydia (Backus) Patterson died on 16 Aug 1870 at 86 years. They and many of the extended family are buried in St. Peter's Anglican Church on adjoining land that was set aside for that purpose by Mary Storey, Patterson's sister.
For more information on the Talbot Settlement on Lake Erie during the War of 1812, see the following Veterans elsewhere on this site and linked here:
Sources
The War of 1812 in St. Thomas and Elgin County  by Donna Hanson, St. Thomas Public Library.
Veteran Summary
Leslie Patterson
Lieutenant Colonel, 1st Regiment Middlesex Militia
Place of Birth
Aghalurcher, Fermanagh County, Unknown, Ireland
Place of Death
Tyrconnell, ON, CAN
Died on: 26 APR 1852
Reason: Likely Old Age
Location of Grave
St. Peter's Anglican Church cemetery, Lakeview Line
Tyrconnell, ON, CAN
Latitude: 42.606754N Longitude: -81.439883