Colonel the Honourable Thomas Talbot was born into an Anglo-Irish aristocratic family, on ancestral lands in Malahide, Republic of Ireland, which the Talbots had owned since the 12th century. He was born on July 19, 1771, the fourth of twelve children. At the age of 11, he was commissioned ensign in the 66th Regiment of Foot, British Army. In February, 1792, at 20 years of age, he was in Montreal with the 24th Foot when he was named private secretary to John Graves Simcoe, the first lieutenant governor of the new province of Upper Canada. With Simcoe, and later on Simcoe's behalf, Talbot traveled extensively between York and Detroit, bounded by the Thames River and the Lake Erie shoreline.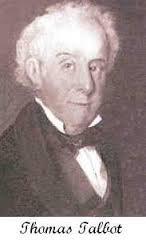 Talbot's duties with Simcoe throughout Upper Canada seemed to influence the rest of his life. On Christmas Day in 1800, now-Major Talbot sold his commission with the British Army and determined to become a settler in Upper Canada. He had been given a field officer's grant of 5,000 acres in which to establish a settlement, and on 21 May 1803 he chose a spot at the mouth of what is now known as Talbot Creek in Dunwich Township on the north shore of Lake Erie. He later referred to this as  "wilderness" but there, over time, he built up his estate and took on the role of selecting settlers, extending roads and allocating land.
His initial intent was twofold:
to bring in settlers from Britain and Europe that would be loyal to Britain, and
to make hemp a major crop supplying Britain with rope for ships' rigging.
In order to encourage settlement, he built a sawmill, gristmill, blacksmith shop, cooper shop, distillery and barns. Later his priorities changed, but writing to Major Halton in the lieutenant-governor's office 1 June 1811 he said:
"I have infinite pleasure in stating for his Excellency's information that I have been very successful in procuring settlers and am filling this part of the Province with a most industrious description of inhabitants."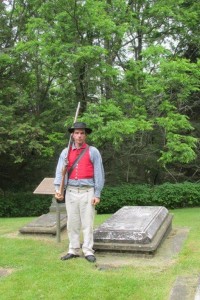 In Talbot's early years there, he enjoyed considerable political power in public office and a position of influence. Despite raising the ire of the provincial government at York for his autocratic methods and his tendency to go over their heads to Lord Bathurst, the colonial secretary in London, Talbot eventually extended his settlement from the Detroit River to Delhi. He placed 3,000 settlers in 29 townships in southwestern Upper Canada.
Talbot's settlement was barely six years old at the beginning of the War of 1812. Talbot was commissioned colonel by Major-General Sir Isaac Brock in 1812 and made commander of the London District which was made up of the militias of Middlesex, Norfolk and Oxford.
In 1812, Colonel Talbot began to recruit volunteers for the Middlesex Militia from the Norfolk Militia and Oxford Militia. At first, recruits were hard to find and only 60 men were willing to leave their young families and new farms during harvest. Nevertheless by 10 Aug 1812 Talbot mustered upwards of 350 men who boarded a small fleet of boats at Port Dover that transported the volunteers to Detroit. On August 16, Major General Isaac Brock with British forces and Talbot's recruits captured Fort Detroit. Later the Middlesex Militia participated at the Battle of the Thames and at Lundy's Lane.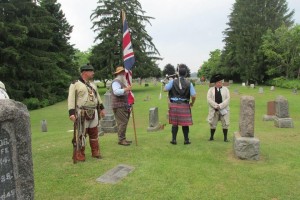 At first, the community of Port Talbot was not greatly affected by the conflict. However, after an initial success, the British position weakened. Following the Battle of Lake Erie, September 10, 1813, the Americans had control of Lake Erie. After the Battle of Longwoods in March of 1814, the area of western Upper Canada was basically undefended. American forces were sent in to destroy the settlements in an attempt to reduce the ability of the region to support the British Army.
Between March and September of 1814 raids were unrelenting as American soldiers and sympathizers marauded along Lake Erie. Some of these marauders were residents of the Talbot Settlement who defected to the American side and were employed as scouts and guides for the American raiding expeditions.
Two of these "spys," Andrew Westbrook and Simon Zelotes Watson were known to have vendettas against Talbot. Watson had hoped to partner with Talbot in settling the area. Talbot had refused. On September 9, 1814, General McArthur accompanied by Andrew Westbrook, invaded Port Talbot. In the absence of Talbot and the militia, the settlement was completely plundered.
In Colonel Thomas Talbot's own words:
"On the 16th of last month (August, 1814) the enemy, amounting to upwards of 100 men, composed of Indians and Americans painted and disguised as the former, surprised the settlement of Port Talbot, where they committed the most wanton and atrocious acts of violence by robbing the undermentioned fifty heads of families of all their horses and every particle of wearing apparel and household furniture leaving the sufferers naked and in the most wretched state."¹

"The vagabond enemy, not being satisfied with the plunder they carried off from Port Talbot on the 16th August, returned in greater force about the middle of September, when they burnt my mills and other buildings, destroyed all my flour and killed my sheep. Poor Burwell's house and barn were likewise sacrificed; thence the enemy extended their violence down my road fifteen miles… My mills having been burnt the farmers will be obliged to take their grain at least 120 miles to have it ground, the expenses attending the transport in these hard times will be heavy indeed."²
Though the raiders on Port Talbot hoped to take Talbot prisoner, he was never captured. He was either away at Turkey Point or evaded capture. At home Talbot dressed the same has his neighbours. Legend has it that once he was able simply to walk away because the enemy was told he was the man who looked after the sheep.
Thomas Talbot remained at Port Talbot for 50 years occasionally visited by members of the British gentry but seemingly content in his isolation. He had no offspring and left half of his 50,000 acre estate to his nephew Colonel Richard Airey and the other half to his trusted companion/estate manager George Macbeth.
Talbot died in London with George Macbeth's family on Feb 5, 1853 at the age of 82. Part of his legacy is the Talbot Road (Highway 3) that opened up southwestern Upper Canada to travel and settlement.
For more information on the Talbot Settlement on Lake Erie during the War of 1812, see the following Veterans elsewhere on this site and linked here:
Sources
Petition of Colonel Talbot to the Loyal and Patriotic Society, 2 September, 1814.
Thomas Talbot, Letter to Chief Justice Scott, 24 October, 1814
The Talbot Papers, ed. James Coyne, 1908
Talbot, Thomas. Dictionary of Canadian Biography
Veteran Summary
Thomas Talbot
Colonel, 1st Regiment Middlesex Militia
Place of Birth
Dublin, County Dublin, Ireland
Place of Death
London, ON, CAN
Died on: 05 FEB 1853
Reason: Old Age
Location of Grave
St. Peter's Anglican Church Cemetery, Lakeview Line
Wallacetown, ON, CAN
Latitude: 42.6068N Longitude: -81.439791