Captain Gilman Willson (1771-1836)
At 39 years of age, Gilman Willson was described by Samuel Street, J.P. as "an honest, industrious man and — a respected inhabitant," of Bertie Township, Niagara. More than 20 years earlier, in 1787, his Loyalist family had come from New Jersey and settled along the Niagara River, seven miles north of Fort Erie. Now, in 1811, Gilman was preparing for another move, this time to a wilderness settlement at Port Talbot on the north shore of Lake Erie, 150 miles further west.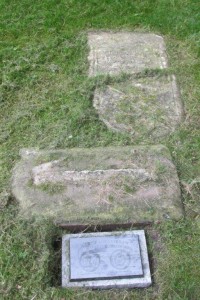 About 1810, Thomas Talbot, the founder of the settlement at Port Talbot, had been in Niagara recruiting people to work for him. Gilman Willson's family connections and experience may have caught Talbot's attention. Gilman was an uncle by marriage of Talbot's surveyor, Mahlon Burwell. He was also the younger brother of Crowell Willson, MP. He was a captain in the Lincoln Militia, an assessor for Bertie Township and as early as the age of 15 he had taken part in a New Jersey land survey as a chain bearer, skills that would be useful in a budding settlement.
Whatever the incentive for moving, in 1811 Gilman and his wife Hannah Sypes and their seven youngest children sold their property and left Bertie Township. They settled on the Talbot Road, Port Talbot, as one of about 20 families.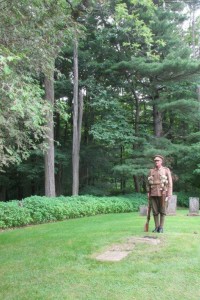 An agricultural survey of 1817 suggests they owned land, but it is questionable whether their primary intention was to farm. Rather, on at least one occasion Gilman took part in the surveying of the Talbot Road being laid out between Delhi to the east and Detroit to the west; he occasionally signed documents on Talbot's behalf; and, in 1814, he was appointed pathmaster for the Township of Dunwich, overseeing the opening and maintenance of roads in the township.
Times were unsettled. Within months of the Willsons' arrival in the Talbot Settlement, war was declared. On February 12, 1812, Gilman was commissioned captain in the 1st Regiment Middlesex Militia, a commission he held into the 1830s. Thomas Talbot was commissioned colonel and placed in charge of the Middlesex Militia and supervisor for the District of London. Despite difficulties in recruitment due to a sparse population, farming schedules, and minimal training, the 1st Regiment was on service during July, August and September of 1812 and Captain Gilman Willson's unit was present at the taking of Fort Detroit.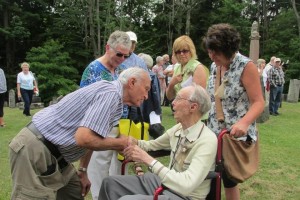 In 1813, British fortunes changed. They lost control of Lake Erie. The fighting moved up the Thames River valley. But, with the losses there, the area between the Thames and the shore of Lake Erie was essentially undefended. The settlement of Port Talbot was raided several times in 1813, often when the militia was away.
The raids in 1814 were unrelenting as American soldiers and sympathizers marauded along Lake Erie between Detroit and Brantford, raiding homes, burning mills and crops, and stealing horses. In July of that year, Captain Gilman Willson's unit fought at Lundy's Lane. Then on September 9, 1814, General McArthur, accompanied by Andrew Westbrook, invaded Port Talbot with an army of more than 700. Once again Talbot and the militia were fighting elsewhere.
The settlement was completely plundered: mills, houses and barns were burned; crops and livestock were destroyed; and the stored flour was ruined. The community never fully recovered from the destruction. Life became much harder as they had to travel long distances to get flour and life-sustaining essentials. In addition, 1816 brought frost every month of the year to that part of Upper Canada.
After the War of 1812, Gilman put in a claim for losses resulting from the August 16, 1814 raid by Captain Walker — 3 horses, 1 woman's saddle, harness cut to pieces, portmanteau, household furniture and wearing apparel. About the same time, Gilman received bad news about the sale of his property in Bertie Township. The purchaser, Jacob Overholser, was arrested for treason and the property seized by the government. Gilman appealed for compensation saying he would be "completely ruined" without the money for the sale, but because the purchase bonds had been destroyed in the raids, his appeal was unsuccessful.
Despite all the hardships, on March 8, 1817 there was a large meeting in commemoration of the founding of the Talbot Settlement. Gilman Willson was unanimously chosen chairman of that meeting. Later that year, on December 11, 1817, he chaired a meeting in Dunwich Township concerning a provincial agricultural survey — the Gourlay Report.
Gilman and Hannah had 12 children:
Sarah b c 1792
Hannah b 1794
Benjamin G. b 1796
Crowell b 1800
Andrew b c 1800
John b 1802
Jephthah b 1804
Edward b c 1807
Elizabeth b 1809 in Niagara
Christopher b 1812
Mary b 1814
Peter b 1816 in Port Talbot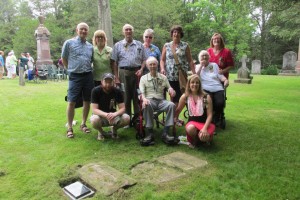 Gilman was granted a license on February 9, 1821 to operate an inn near Port Talbot on Lot 17 Conc 10, Dunwich. He witnessed some of his children's marriages in the 1830s and he, himself, was baptised and confirmed in the Anglican Church with others of the community.
Not much else is known about Gilman Willson, but three items indicate what Gilman was like as a father, friend and neighbour. The first involves his oldest son Benjamin Gilman. On May 20, 1814, Port Talbot got half an hour notice of the approach of a raiding party. Two groups of local militia started to convene from different points along the Talbot road. Benjamin Gilman was with one group of seven men, but his father took him away. Therefore, that group decided to wait for reinforcements. The other group of seven men did not manage to meet them until it was too late. When the raiders arrived, the settlement was deserted, except for those on guard. Captain Gilman Willson and Walter Galbraith were made prisoners at the mill of Col. Talbot. They managed to escape when Galbraith threw the captors' guns into a stream where they had stopped for a drink. Gilman would later learn that the militia commander, Mahlon Burwell, felt they could have challenged the raiders if Benjamin Gilman had been allowed to fight.
A second, seemingly insignificant, fact suggests a respect or appreciation for Gilman Willson. In 1818, a child was born to Hooper King who was a tailor, recent immigrant, and contemporary of Gilman. King was a supporter of the Reform Party, with liberal principles: Gilman could be said to be a supporter of the Establishment. Yet, King named his son Gilman Willson King in respect for a fellow militiaman.
The third item suggests that life may have been hard for Gilman and Hannah in the last few years of their lives. It also demonstrates how neighbour helped neighbour. In 1834, the Willson family's neighbour, Thomas Mathews, drew up a will, knowing he was dying. Perhaps Thomas was concerned for the Willson family at the time, because in the will, he named Gilman and Hannah's youngest son, Peter Mathews Willson, as the recipient of his farm, in return for which he asked that Peter keep Thomas's elderly wife, Barbara, in comfort. He also made monetary provision for Hannah as long as Barbara should live. Gilman died shortly after Thomas, in 1836, at 64 years of age. Hannah died in 1856 at the age of 81. Gilman and Hannah Willson were buried in St. Peter's Anglican Church Cemetery, Tyrconnell, Upper Canada, overlooking Lake Erie.
For more information on the Talbot Settlement on Lake Erie during the War of 1812, see the following Veterans elsewhere on this site and linked here:
Veteran Summary
Willson Gilman
Captain, 1st Regiment Middlesex Militia
Place of Birth
Wantage, Sussex County, NJ, USA
Place of Death
Port Talbot, ON, CAN
Died on: 01 JAN 1836
Reason: Unknown. (Month and Day are not known).
Location of Grave
St. Peter's Anglican Church Cemetery, Lakeview Line
Wallacetown, ON, CAN
Latitude: 42.6068N Longitude: -81.439791