George Crane was born in Scotland in 1771. In 1803, at 32 years of age, he was in Upper Canada after retiring from the British Army. By May 6, he was in York (now Toronto) when his path crossed with another ex-military, Thomas Talbot. Talbot had left England early in February with instructions from the Colonial Secretary to the Lieutenant Governor granting him 5,000 acres of land and permission to establish a settlement in the wilds of Upper Canada.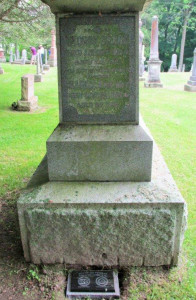 Talbot was heading for the north shore of Lake Erie. Some of this area had been surveyed by 1803 but skilled people would be needed to build an infrastructure for the settlement. He offered George nine dollars per month to work for him and George accepted. (Source: The Talbot Papers.)
As they made their trip from York to Niagara and further up the lake they were joined by three other employees — William Powers, Samuel Rogers and Patrick Whealand — as well as Deputy Surveyor William Hambly. On 21 May 1803 they landed on a beach where a creek cut through tall white bluffs to Lake Erie. Talbot named the site Port Talbot. This was the heart of the countryside that became home to George Crane for the rest of his life.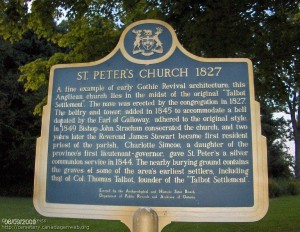 George Crane worked at Port Talbot for three years as Talbot prepared for his first settlers. George was part of a crew that cleared the land and, despite the stumps, planted crops such as corn and potatoes. He may have done any number of tasks, including soling Talbot's shoes. When a carpenter from Niagara arrived in 1804, they built cabins, barns, a blacksmith shop, a cooper shop and a sawmill. The staff continued to grow as Talbot hired domestics. One was Isabella Findlay from Glasgow, Scotland. Isabella and George married and in 1806 the couple became the Talbot Settlement's first settlers. He was 35 years of age and she was 19.
George and Isabella were allotted Lot 15 Conc 11, Dunwich, four miles up the lake, at a point of land called Plum Point visible from Port Talbot. They had to build a log house, clear the land and road allowance and plant crops within two years. The deed to the property could then be obtained with the payment of a fee. Talbot likely provided them with seed for wheat, barley, peas and oats. They started their family with William, born on the 20th of December, 1807, and Charles in 1809, by which time neighbours had started to arrive a little farther west. George and Isabella added to their family with Peter in 1810, and by 1812 they were expecting Anthony. Then came the War of 1812-14.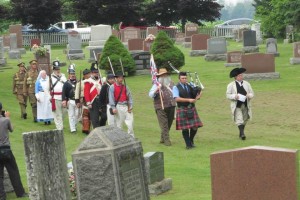 While George Crane's name doesn't come up often during the war records, he is representative of the men who needed to fight to preserve their farms, families and community. In an agricultural community such as Port Talbot, citizen soldiers usually lacked formal military training. General Isaac Brock, was anxious to correct this. He "called for the formation of unpaid volunteer companies called flank companies that were to be armed, accoutered, and partially trained," who could "provide a body of loyal young men that could be called on in an emergency." Men were put into flank companies only after they had mastered the basic duties. The requirement for both fitness and experience meant that they were mostly men in their late twenties to early forties. (Source: Steve Bennett: WordPress)
Even then, newly-commissioned Colonel Talbot struggled to find volunteers. Farmers resisted leaving their harvests and families. Most of the settlers were like George Crane with young families, just starting to clear the land. Nonetheless, George volunteered in 1812. He had experience with the British Army and became part of the Flank Company 1st Regiment Middlesex Militia.
In August of 1812, Brock camped at Port Talbot and boats transported the 350 Middlesex militia volunteers and British forces to the taking of Fort Detroit on August 16. The Regiment also participated at the Battle of the Thames October 5, 1813 and at the Battle of Lundy's Lane, on July 25, 1814.
At first, the Port Talbot community was not greatly affected by the war, but that changed. The sparsely populated settlement was attacked several times in 1813, and the raids in the summer of 1814 were unrelenting as American soldiers and sympathizers marauded along Lake Erie, raiding homes, burning mills and crops, and stealing horses.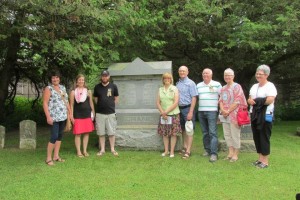 On September 9, 1814, General McArthur, accompanied by Andrew Westbrook, invaded Port Talbot with 600 undisciplined mounted Kentucky soldiers, 50 US rangers and 70 Indian allies. In the absence of Talbot and the militia, the settlement was completely plundered: The grist and saw mills and many houses and barns were burned, crops and livestock destroyed, and all the flour in the settlement ruined. The settlers were left with little but the clothes on their backs. The community never fully recovered from the destruction.
Records show that after one raid by Captain Walker on August 16, 1814, George Crane put in a claim for a horse, cow, cash, gown, muslin, great coat, cloak, gloves and a gun. After the war the family continued to grow to 11 children in all:
Isabella b 1814
Marie b 1816
Hannah b 1818
Susan b 25 Feb 25 1820
Jane b 1822
Alexander George (baptized 15May 1825)
Adam b 5 Sept 1826
Eventually, members moved away. William went to the Oregon Territory, Charles to Rockford, Illinois and others married and moved off the home farm.
A couple of legends still circulate about George and Isabella which illustrate the fortitude with which they lived their lives. This one is told by George Munro:
"Many amusing contacts occurred between the Colonel and his settlers…. Permit me to give you the following in his own words, at his own table: 'Do you know George Crane's wife?' I said I had heard of her but never met her. 'She is a country woman of yours and a real Scotch virago she is. One day, when at dinner, she came in here and said she came for a horse to take provisions from the block house. I told her to take old Bob, a quiet, strong horse. She said she would not have old Bob, but must have Jane. I said she could not have Jane. She seized that large carving knife and threatened to run it through me, so that I had to holler to Jeffrey to give the Scotch devil the mare.' Jeffrey was the Colonel's confidential servant, and Jane, the Colonel's riding beast, which he never lent to anyone."
Another:
"It is reported that Colonel Talbot gave George the land for 25 cents per acre — all the land he could walk around in 24 years.  In those days the land was forest and Mr. Crane had to mark each tree with an axe to find the way… He would take a bag of grain and walk to Port Stanley carrying the bag on his back and have it made into flour.  He would return the next day as the forest had a lot of wild beasts."
George Crane died in August of 1834 at the age of 64 and was buried on the farm, overlooking the lake. Isabella died on 24 Oct 1854 at the age of 67. She was buried in St. Peter's cemetery where there is a monument to them both.
For more information on the Talbot Settlement on Lake Erie during the War of 1812, see the following Veterans elsewhere on this site and linked here:
Veteran Summary
George Crane
Sergeant, Flank Company 1st Regiment Middlesex Militia
Place of Birth
Unknown, Unknown, Scotland
Place of Death
Plum Point Road, Port Talbot, ON, CAN
Died on: 01 AUG 1834
Reason: Likely Old Age (day not known)
Location of Grave
St. Peters Anglican Church Cemetery, 29625 Lakeview Line
Wallacetown, ON, CAN
Latitude: 42.6068N Longitude: -81.439791