Captain Peter Bowman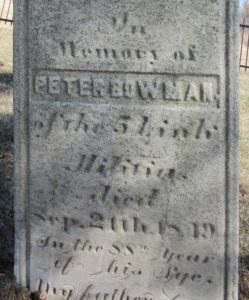 He was a Private in Butler's Rangers from Susquehanna River. Enlisted at the age of 15 at Niagara July 1784. Took the oath of allegiance at Niagara sometime between Nov 1784 and Jun 1785. Listed as a settler "at the Mountain and near Fort Erie, 1785". Land entitlement in the District of Nassau in 1792 totalled 350 acres. Captain in the 4th Regiment of the Lincoln Militia in 1811. Settled in Ancaster Township, Upper Canada. Died 28 Oct 1847 at the residence of his only surviving child, Mrs. P. Spohn, in Ancaster in An Annotated Nominal Roll of Butler's Rangers 1777 – 1784, pg 50.
Peter married in 1787, Magdalena "Lena" Lampman (1766-1847) d/o Loyalist Frederick Lampman (1722-1789).
They are buried beside each other in the Bowman Churchyard.
In
memory of
PETER BOWMAN
of the 5 Link
Militia
died
Sept 21st 1849
in the 88th year
of his age.

In
memory of
LENAH
wife of Peter Bowman
who died
Oct 28, 1847
AE 81 Y'rs and 9 d's.
As a boy, Peter lived on a farm on the Susquehanna River-land which was awarded to his father for his participation with the British Army during the French War. Late one night in November 1775 a party of rebels robbed the home, taking virtually all of the family's possessions, cattle, and farm implements. They also took Peter's father, Jacob and Jacob's oldest son as prisoners. Peter was left to look after his mother and siblings and the family likely would have starved if not for the assistance of some friendly Indians who not only provided them with sustenance but also brought their desperate plight to the attention of the British forces at Niagara.
Peter arrived at Fort Niagara with his family on 3 Nov 1776, penniless as were most of the refugees, and entirely dependent on the charity of the fort Commandant. The story goes that the family travelled to Niagara with only one pair of shoes between them.
The earliest known written record of any settler penetrating as far as Ancaster to squat on land here can be found in a land petition dated 1793 in which 22 men, often called James Wilson & Associates, stated "that having made the settlements on which they live adjoining the west line of Township No 8, near the road lately laid out from the head of Lake Ontario to the River La Tranche that they were encouraged by the Land Board and the Acting Surveyor to settle upon those lands four years before they were surveyed which proves now to be reserved lands, your petitioners pray that the same may be confirmed to them." The 22 men included both Peter Bowman and John Smith.
In 1810 Peter Bowman and Henry Hagle each donated a corner of their property to build a small log church and graveyard. The property line runs through the middle of the church building.
Peter remained on his Ancaster land for the rest of his life until he died in 1849.
Peter and Magdalena had only one son, John Wesley, who died at the age of  nine. They had a daughter, Elizabeth who inherited the homestead and married Philip Spohn. All of the Peter Bowman family is buried in this Churchyard.
Veteran Summary
Peter Bowman
Captain, 5th Regiment, Lincoln Militia
Place of Birth
Canajoharie, Montgomery, New York, United States
Place of Death
Ancaster, Ontario, CAN
Died on: 24 SEP 1849
Reason: Old age
Location of Grave
Bowman Cemetery, 880 Garner Road East
Ancaster, ON, CAN
Latitude: 43.2081N Longitude: -79.94253