This story is typical of a British soldier during the French Revolution & Napoleonic era. 1789-1815.
Edward Lee was born in Bridgenorth, Shropshire, England in 1766.  St. Leonard's Church records show the he married a Elizabeth Jones on 5 April 1790, He first joined the British army 1792 in Pigot's Regiment of Foot it would later be called the 130th (Loyal Staffordshire Volunteers) served in the West Indies, seeing action in what is now Jamaica during the Second Maroon War 1795-96.
In 1796 the 130th Regiment was disbanded, absorbed into other regiments. Edward joined the 41st (Welsh) Regiment. Months before, many members of the 41st had died of yellow fever while in the West Indies. The 41st then returned to England and recruited to beef up their numbers then were later stationed in Ireland. On 17 August 1799 the British 41st Regiment were sent to British North America (Canada) landing at Quebec 24 October 1799.
The Regiment marched on to Montreal where they set up a Head Quarters and would be, for the next few years. After the Treaty of Amiens between Britain and France, the British army would be reduced.
September 1802 Edward was discharged (in today's terms laid-off).
It is believed he may have been trying to get back to England with no money and little pay for work.  He got as far as St. John's Newfoundland. It is believed about this time that Edward had remarried while in St. John's and fathered a son Patrick Edward Lee(1804-1890)  would become one of the first settlers in West Gwilliambury, township, Simcoe County, Ontario.
In April 1804 Edward rejoined the British Army this time the Royal Newfoundland Regiment of Fencible Infantry, 1st Company  a Grenadier company as Corporal, while at Quebec he was reduced in rank 19 March 1808. May 1812 he was transferred into the 7th Company under the command of Captain Robert P. Skinner, who was in charge of gunboats at Prescott Ontario, on the Upper St. Lawrence River.  (B2)  Accompany officer was Ensign, later Lieutenant Daniel Rieley. (D9) The 7th company would serve as Marines on gunboats patrolling from Cornwall to Gananogue, and serving as a light infantry company .  Escorting largely by river or sometimes road, this was the main and only route of supplying Upper Canada.
This would be their theatre of war during the war of 1812-15, while the Niagara war received much of the attention of historians, the actions along the St. Lawrence has remained somewhat overlooked. It should be noted that Troops were constantly on the move, between a series of blockhouses along the river that provided lodging and defensive positions against an American attack.
In Prescott the home of Colonel Edward Jessup was used as a barracks and hospital, a stones throw was the Blockhouse with the earth works around being fortified, this would later be known as Fort Wellington. In describing all the Officers and Men of the Royal Newfoundland Regiment, in one word — Everywhere   during the War of 1812. Private Edward Lee did see action in the second Battle of Ogdensburg, N.Y. 22 February 1813 and most likely at the Battle of Crysler's Farm 11 November 1813.
He may have been at:
a Skirmish near Toussaint Island, September 1812
Raid on Gananoque, Upper Canada, 21 September 1812
The first Battle of Ogdensburg, 4 October 1812
Battle of Cranberry Creek, 19 July 1813
An interesting foot note , Pte. Lee may have been part of a detachment under Major Rowland Heathcote of the Royal Newfoundland Regiment escorting of American Prisoners of War captured at Fort Detroit, from Kingston to Montreal (if not part of the way). General Brock accompanied his prize and paraded the American Prisoners 375 and Their General Wm. Hull, marching the Americans through the streets of Cornwall, (Ontario) while the parade band played "Yankee Doodle."
By spring 1814 British reinforcements from Europe had arrived. Some older soldiers could be relieved. While younger and more fit members, about 6 Officers & 130  men, were sent North to Re-enforce Michilimackinac (Mackinac) with some still remaining at a number of posts in the Canadas (Ontario and Quebec). The first wave of 11 officers and 104 members of the Royal Newfoundland Regiment along with 22 Women and 46 children started to make their way to Quebec then St. John's.  According to August returns one man died and one man was discharged (that man being Edward Lee.)
On their way they loaded onboard His Majesty's Transport, believed to been called Urania or Uranie. While at Anchor on the  St. Lawrence  near the Brandy Potts Island  (D1)  (les du Pot 'Eau-de-Vie).
On 24 of August 1814 The Commanding Officer of the Regiment, Major Rowland Heathcote signed the Discharge, with Lieutenant John G Hierlihy witnessing Edward signing that he had received all his pay, clothing,  arrears of pay.
At about 48 years of age Private Edward Lee was discharged. He had served:
4 years & 182 days with the 130th (2 year 182 days in the West Indies)
8 years & 214 days with the 41st Regiment
10 years & 127 days with the Royal Newfoundland Regiment of Fencibles
His total served time was 23 years and 158 days. Having been in two wars in the service of His Majesty King George III and died around 1815. (Aidez-nous  traduire)
J. Lee was one of the early settlers of Sarawak Township. He was born 1840 , a native of West Gillimbury, Simcoe County. The homestead was just a few miles from Bradford on the Penetanguishene Road. He was the son of the late Patrick Edward Lee who was born in Newfoundland. Wm. J. Lee's grandfather had been a soldier in the English Service. (Was originally taken from Owen Sound Sun Times, Death notice of Wm. J. Lee 1914) (B2) Officers of the British Forces in Canada during the War 1812-15 by L. Homfray Irving.
Sources
Researched and written by Rodney Lee, a direct descendant of Pte. Edward Lee & Author of A Directory of Officers & Men of the Royal Newfoundland Regiment 1795-1816.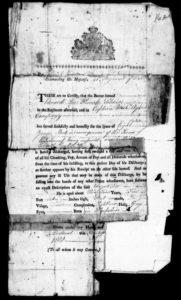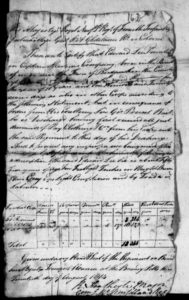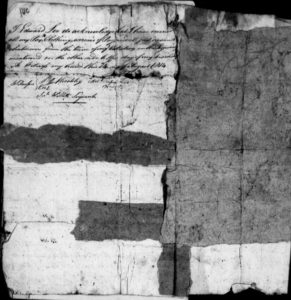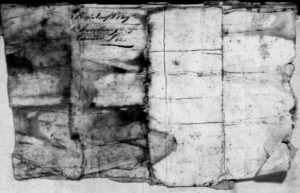 Veteran Summary
Edward Lee
Private, Royal Newfoundland Regiment of Fencibles
Place of Birth
Bridgenorth, Shropshire, England
Place of Death
Unknown, Unknown, CAN
Died on: 01 JAN 1815
Reason: Unknown
Location of Grave
Unknown, Unknown
Unknown, ON, CAN
Latitude: 0N Longitude: 0