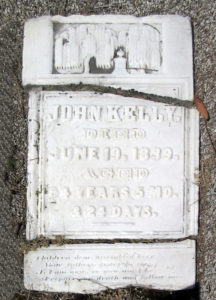 John was born about 1775, to Jonathan Kelly and Elizabeth Shaver. He died 19 Jun  1839,  and is buried at Bowman United Church Cemetery in Ancaster Twp. During the War of 1812, John Kelly served as a Private, in the 5th Regiment Lincoln Militia.
John served, from 25 Sep to 24 Oct 1812 in Captain Samuel Hatt's Flank Company and was recorded as wounded and in the hospital at Fort George.
John served from 25 Nov to 16 Dec 1812 with Captain Samuel Hatt again. Then John served from 6 Oct to 11, 1813 in Captain Peter Bowman's Company.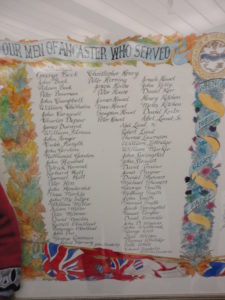 On 24 Jan 1816, John Kelly made a war claim, as a resident of Ancaster Twp for losses to British troops and Indians in 1814 and 1815. He lost two swarms of bees and five sheep. George and Adam Book of Ancaster Twp certified the claim. The 1816 Ancaster Twp Assessment recorded his name.
About 1850, John Kelly of the Gore District, and a former private in the 5th Regiment Lincoln Militia, received 100-acres worth of script for his services in a flank company during the war. This grant had been available since 1820 but John had not claimed it earlier. As he died in 1839, it would have been his heirs who filed the claim.
— Brenda Denyes UE
— Marilyn Hardsand UE
Veteran Summary
John Kelly
Private, 5th Regiment Lincoln Militia
Place of Birth
Beaver Dams, Thorold Township, Welland, Ontario, Upper Canada
Place of Death
Ancaster Township, Ontario, CAN
Died on: 19 JUN 1839
Reason: Unknown
Location of Grave
Bowman Cemetery, 880 Garner Road
Ancaster, ON, CAN
Latitude: 43.2081N Longitude: -79.94253