Luke was born in Ancaster, Ontario, Canada, 30 Nov 1796. He died 8 Apr 1845 in Ancaster, Ontario, and is buried in Bowman Cemetery, with his father and brother.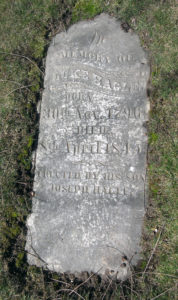 Luke married 31 Oct 1837 to Ellen Ralston.
Luke along with his brother, Henry Jr and his father, Henry Sr fought in the 5th Regiment Lincoln Militia.
Luke's father, Henry, settled at Ancaster in the spring of 1795 and later bought Lot 50 Conc 4 Ancaster from Jacob Bowman.
They heard from their father, Henry Hagle (1753-1834), that the Hagle family, after the reformation, had moved from Wurttemberg, a State in southern Germany, north to Hanover. When the agents of William Penn scoured Europe for Yeomen and tradesman to settle the State of Pennsylvania in the early 1700's, one Henry Hagle, at the age of 14, came to America and lived for awhile in Philadelphia.
He had several children who where raised in New Jersey. During the American Revolution, a son, Jasper, while a prisoner-of-war at Valley Forge was poisoned by the rebels, so it was said.
After the war, a son, Henry, was with great fleet of exiles who sailed north from New York to what became the Province of New Brunswick.
Their next move, about 1792, with their four children, Catherine b1783, Hannah b1785, Jacob b1788 and Peter b1790, was to the Sugar Loaf Settlement, near Port Colborne.
Their final move was to Ancaster. Three more sons were born, Henry b1794, Luke b1796 and Samuel b1804.
He was jailed with Mark Hagle in London on 17 Dec 1837 for participating as a rebel in the Rebellion of 1837. He was granted bail a few weeks later, and the charges of treason were discharged on 13 Jan 1838.
— Brother-in-law of 3rd Great Grand Aunt of Marilyn Hardsand UE
Veteran Summary
Luke Hagle
Private, 5th Regiment Lincoln Militia
Place of Birth
Wentworth County, Ancaster, Ontario, Upper Canada
Place of Death
Ancaster, Ontario, CAN
Died on: 08 APR 1845
Reason: not known
Location of Grave
Bowman Cemetery, 880 Garner Road
Ancaster, ON, CAN
Latitude: 43.2081N Longitude: -79.94253