Private Henry Lewis Smith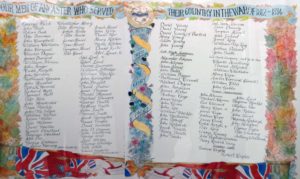 Henry Lewis Smith was born 28 Jul 1786, in Sussex County, New Jersey, and died 18 Apr 1859. He married in 1808 Elizabeth Vandecar, daughter of Alexander Vandecar, United Empire Loyalist, born 11 Apr 1789, died 11 Mar 1863. His family had been members of the New Jersey Volunteers, and had served consistently for the British during the American Revolution. Henry died April 1859 in his 72nd year.
He fought in the 2nd Flank Company, 5th Regiment Lincoln Militia.
The brothers Jacob Lewis, and Lewis Smith Jr survived and went on to serve, in the Rebellion of 1837.
On 3 May 1811, Elizabeth Smith made a land petition as the wife of Henry Smith of Glanford Twp and the daughter of Ralph Vandecar, a Loyalist. She was 22 years old and had been married to Henry Smith, the son of Lewis Smith, for three years. She was recommended for a grant of 200 acres.
During the War of 1812, Henry Smith served as a Private, in the 5th Regiment Lincoln Militia. This militia regiment did not muster men from Glanford Twp, so it is possibly Henry had moved since 3 May 1811.
He served from 25 Sep to 24 Nov 1812 in Captain James Durand's Flank Company which took part in the Battle of Queenston Heights on 13 Oct 1812.
He served from 25-31 May 1813 in Captain Israel Dawdy's Detachment.
Henry also served, from 30 Aug to 2 Sep 1813 in Lieutenant Michael Showers' Company.
From 19-28 Jun 1814 he was employed falling timber at Burlington with Captain Peter Bowman's Company.
On 22 Oct 1820 Henry Smith of Glanford Twp and a former Private in the flank company of the 5th Regiment Lincoln Militia received a 100 acre militia land grant on the West Half of Lot 1 Conc 10 Garafraxa Twp where is name was recorded in the 1825 Glanford Twp Assessment.
On 18 Apr 1859 he died in Glanford Twp and was buried in the Bowman United Church Cemetery.
Brother-in-Law of 4th Great Grand Uncle of Marilyn Rayner Hardsand UE
Veteran Summary
Henry Smith
Private, 2nd Flank Company, 5th Regiment Lincoln Militia
Place of Birth
Sussex County, New Jersey, United States
Place of Death
Ancaster, Upper Canada, CAN
Died on: 18 APR 1859
Reason: Old Age
Location of Grave
Bowman Cemetery, 880 Garner Road
Ancaster, ON, CAN
Latitude: 43.2081N Longitude: -79.94253