This application is sponsored by the Border Historical Society, Eastport, Maine
Thomas Raymond joined the Royal Navy on 17 August 1801 as a midshipman.  He served on HMS Rattlesnake (sloop, 6th rate, 16 guns) until April 1810 when he briefly served on HMS Courageux (ship of the line, 3rd rate, 74 guns).  In December 1810, he passed his Lieutenant's examination.  Through his training, he qualified as a (Sailing) Master which meant that he was responsible for the ship's navigation.  From 20 January 1812 to 23 March 1814, he served on HMS Comet (sloop, 6th rate, 18 guns).  He then transferred to HMS Niobe (frigate, 5th rate, 38 guns) as the Master and served on her from September to October 1814.  Niobe had been built as the French ship Diane and was captured by the British in 1800 off Malta.  Raymond's last ship was HMS Menai (sloop, 6th rate, 26 guns).  He served on her as the Master from 15 October 1814 to 22 January 1817.  While it is not known where he served, it would be reasonable to think that his first years of service were with the Channel Fleet that was blockading Napoleonic France.  It appears that Niobe and Menai were employed in North American waters, most likely on convoy or anti-privateer duties.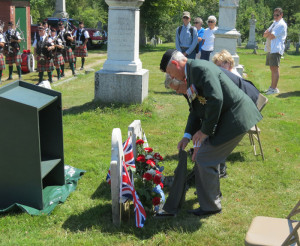 Menai may have been based in either Saint John, New Brunswick or Halifax, Nova Scotia.  In either case, he visited Saint John sufficiently frequently to meet Miss Jane Simpson who he married there on 17 August 1817.  He probably retired from the Royal Navy about this time and settled in Saint John.  He did not have a long retirement as, thirteen months later, he died at Deer Island, New Brunswick, an island in Passamaquoddy Bay.  He was 35 years old.
Raymond had made a favourable impression on all that he had met and "a numerous and sizable assemble" was present at his funeral on Moose Island.  He was a "distinguished member of the Masonic family" and so the local Masonic Lodge erected a headstone for him in 1819 which reads:
"To the memory of Mr. Thomas Raymond, Master in His Britannic Majesty's Royal Navy, born in Aldborough, Suffolk, England, who departed this life, September 24, 1817 age 35"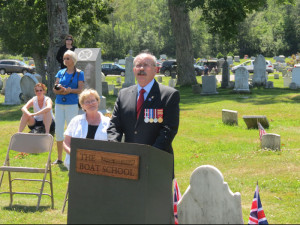 He was initially buried in the English corner of the "old" town cemetery.  It was near the water and, by the 1820s, erosion was starting to expose the graves.  The town opened a new cemetery, now called Hillside East, and many bodies were transferred from the old to the new cemetery.  As Raymond's headstone was marked with Masonic symbols, he was a known mason.  Therefore, the local Masonic Lodge reinterred his body in the new cemetery soon after it was opened.  His headstone remains intact as a tribute to a member of the Royal Navy who kept the sea lanes open for trade and commerce during the War of 1812.
References
Wayne H.M. Wilcox. "Two Comrades in Arms, Strangers in a Strange Land," 5 May 1998.
Veteran Summary
Thomas Raymond
Master, Royal Navy
Place of Birth
Aldborough, Suffolk, England
Place of Death
Eastport, Maine, USA
Died on: 24 SEP 1817
Reason: Unknown
Location of Grave
Hillside East Cemetery, High Street
Eastport, ME, USA
Latitude: 44.904916N Longitude: -66.989855