This application is sponsored by the City of Fredericton, New Brunswick.
Andrew William Rainsford was the third son of Captain, the Honourable Andrew Rainsford, who was the Receiver General of His Majesty's Quit Rents in West Florida from 1774 until it was captured by the Spanish in 1781.  He was also active in military affairs serving as the Fort-Adjutant and Barrack-Master at Fort George.  After the end of the revolution, he and his family came to New Brunswick as Loyalists.  Andrew Rainsford held several public offices including Receiver General for the province and Deputy Barrack Master General.  Five of his sons later served in the military.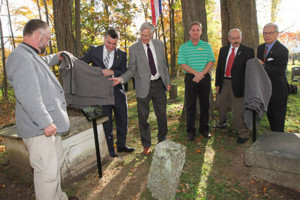 Andrew Rainsford was born in 1784.  On 3 December 1803, he was commissioned as an Ensign in His Majesty's New Brunswick Regiment of Fencible Infantry.  Less than four years later, he was promoted to Lieutenant on 9 July 1807.  He served in the Grenadier Company, one of the two elite Flank Companies.  His regiment was elevated to the line as the 104th (New Brunswick) Regiment of Foot in 1810.  On 16 February 1813, he departed Fredericton with this company on the epic march to Kingston, Upper Canada (Ontario).  He received his first baptism of fire during the attack on Sackets Harbor, New York that occurred on 29 May 1813.  When Captain Richard Leonard was wounded early in the action, command of the Grenadier Company fell to Rainsford.  He was shot in the abdomen during the final phase of the attack on an American stronghold.  Fortunately, he recovered from his wound and went on to serve with his company along the Niagara Frontier.  He was promoted to Captain on 24 February 1814.
Soon after the war ended, he married Mary Ann, daughter of Mr. James Clarke of Johnstown (Brockville), Upper Canada.  Following the disbandment of the 104th on 24 May 1817, he settled in Glengarry County, most likely to be closer to his wife's family.  He maintained his military ties and served as a major in the Glengarry Militia during the Rebellions of 1837-1838.  He had returned to New Brunswick by 1841 when he unsuccessfully petitioned for a land grant.  His residence was in Kingsclear where he died on 31 December 1867 at the age of 83.
References
W. Austin Squires. The 104th Regiment of Foot (The New Brunswick Regiment) 1803-1817. Fredericton: Brunswick Press, 1962.
Provincial Archives of New Brunswick:
MC 300 MS 15. Major G. Harold Markham fonds.
University of New Brunswick Libraries:
The Loyalist Collection
Family Links: Charles Rainsford, Lawrence Rainsford
Veteran Summary
Andrew William Rainsford
Captain, 104th (New Brunswick) Regiment of Foot
Place of Birth
Kingsclear, NB, CAN
Place of Death
Kingsclear, NB, CAN
Died on: 31 DEC 1867
Reason: Old Age
Location of Grave
The Old Burying Ground, 500 Brunswick Street
Fredericton, NB, CAN
Latitude: 45.960011N Longitude: -66.64273