1812 Militia lists found the Vollock's in Lawe Company of the 1st Lincoln Regiment, Cornelius aged 37 in 1812, present at battle of Lundy's Lane ; Isaac, resident of Louth also at Lundy's Lane; James in company in 1813 , Jonas in Company in 1814.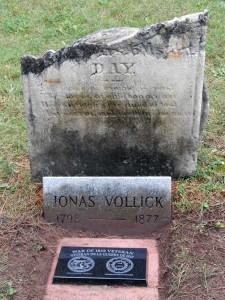 Jonas was born 5 Jul 1797 in Upper Canada and died 5 Jan 1877. He is buried at Bethel Chapel, Methodist Church, Cemetery, Kilbride, Ontario, Canada. He was the Son of Cornelius Van Valkenburg UEL & Eve Larroway; grandson of Isaac Van Valkenburg UEL & Anna Maria Werner and Jonas Larroway UEL & Elizabeth (Betsy) Muller.
The name Van Valkenburg was changed to Vollick when his Father & Grandfather where members of the Butler Rangers in hopes of protecting their family that was still living in New York State.
His father, Cornelius (Van Valkenburg ) Vollick, was also a member of  1st Regiment Lincoln Militia as Private, but was released as unfit 24 Oct 1812.
Doesn't seem to have applied for Military Prince Regent's Grants.
Vollick listed above age 37 was  with Sir John Johnson's Bart Brigade and were among the first nine to join Butler's Rangers of their own accord and is a UEL and fought during war 1812-1814 just not sure where he is buried. Isaac & Jonas are Cornelius two oldest sons .
Sources
Upper Canada land petitions "v" Bundle 14 1824 -1826 (RG 1 , L3 Vol 516) Canadian Public Archives.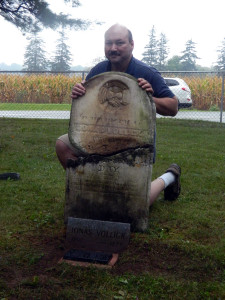 Veteran Summary
Jonas Vollick
Private, Lawe Company 1st Regiment Lincoln Militia
Place of Birth
Upper Canada, ON, CAN
Place of Death
East Flamborough, Wentworth County, ON, CAN
Died on: 05 JAN 1877
Reason: Old Age
Location of Grave
Bethel Chapel, Methodist Church, Cemetery,, 1172 Britannia Rd
Kilbride, ON, CAN
Latitude: 43.4025N Longitude: -79.9267