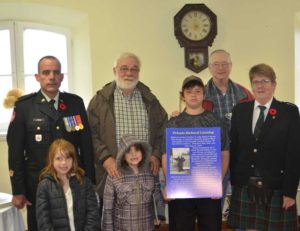 The Lanning name has morphed many times over the years, with spelling varying from Lanon to Lanion-Lanyon-Laneine back to the 12th Century spelling of DeLinyeine.  Genealogists have identified the family as originating in Madron, Cornwall, England, dating back to the 12th Century.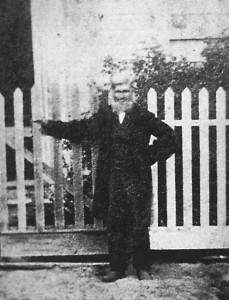 Richard Lanning was the eldest son and third child born to Robert Lanning and Sarah Miller of Sussex County, NJ, on 12 October 1782.  It is assumed Richard was born in Sussex, but nothing has been found to prove this.  In 1803 Richard crossed the Niagara River at Black Rock and made his way to the Charlotteville area of Norfolk County, Upper Canada in 1803.  By October 1803, "Mr. and Mrs. Lanning" were baptized by the Baptist circuit missionary, Lemuel Covill.  It is not known who Mrs. Lanning is at that point in time.  He may have lost a wife or he may have married Eve or Eva Johnson, the daughter of Loyalist Lawrence Johnson and Margaret Montross.  She was born in York County, New Brunswick on 11 Jan 1788.  Richard took up farming , settling on rented acreage comprising Lot 16  Conc 5, Charlotteville, Norfolk County.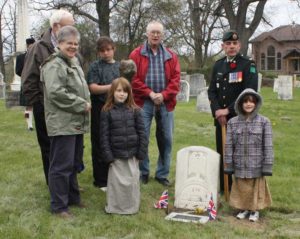 When the War of 1812-14 broke out, Richard enlisted in 1812 served as a Private in the 1st Flank Company 1st Regiment Norfolk Militia, first under Captain Daniel McCall and lastly under Captain John  Bostwick.  In October 1812 both the 1st and 2nd Flanks of the Norfolk Militia, under Bostwick, were sent to the Sugar Loaf area of Niagara.  The 1st Flank was sent onto Fort Erie where they engaged in combat with US infantry and Navy on the 28 Nov 1812.  Richard's service is well-documented in the War of 1812 Upper Canada Returns, Nominal Rolls and Paylists, RG 9 1B7.  As well, he received a Certificate of Service dated 25 Apr 1820 under the signature of Captain Daniel McCall, which allowed him to receive 100 acres of land for his service.
On the 4 July 1816, Richard purchased 87-1/4 acres known as Lot 3 (South)  Conc A, Charlotteville.  His father-in-law, Lawrence Johnson owned the north 100 acres of that lot.
Richard and Eve had two sons:
John, b 20 July 1808, m 1. Elizabeth S. Tedrick; 2.  Harriet Byron Perkin
Lemuel Covill Hezekiah Gordon, b 24  Sept 1819 m Catherine Jane Dedrick
Eve died on the 23 Oct 1822 and was laid to rest in the Baptist Cemetery at Vittoria, Charlotteville, Norfolk.  Covill, who was three at the time went to live with his maternal grandparents.  On 10 Apr 1824, Richard deeded his property over to his father-in-law.

On the 11 Mar 1829, Richard purchased and began clearing land known as the S 1/2 Lot 10 Conc 2, Yarmouth Twp.  Richard was active in the founding of the The Plains Baptist Church.  His son, John, joined him in 1833 to help clear land.  It was in that year John became Clerk of The Plains, a position he held until his death.  Covill joined his father and brother in 1836, but then returned to Charlotteville where he married, returning to Yarmouth with his family in 1858.  Richard was also one of the two trustees for SS#2 Yarmouth and one of the early teachers recorded is John Lanning.
On 7 July 1833, Richard married Mary Griffiin from the Port Burwell area of Malahide  Twp.  She died 17 Jan 1868 at the age of 84 years, 7 months, 9 days and was buried in Bayham Twp.  Richard sold the home farm to Covill on the 10 Dec 1872 and died at the age of 90 years, 4 mo. 5 d on 17 Feb 1873.  He was buried in Seminary Cemetery, a short distance from his Yarmouth home.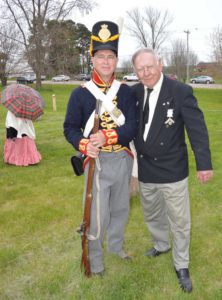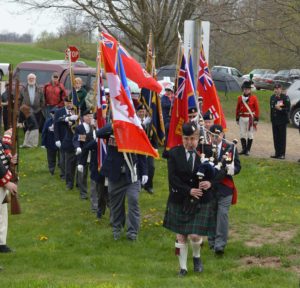 Veteran Summary
Richard Lanning
Private, 1st Flank Company 1st Regiment Norfolk Militia
Place of Birth
Sussex County, New Jersey, Thirteen Colonies
Place of Death
Yarmouth Twp., Elgin County, Ontario, CAN
Died on: 17 FEB 1873
Reason:
Location of Grave
Seminary Cemetery, Centennial Road, Just north of Sparta Line
Yarmouth Twp., Elgin County, ON, CAN
Latitude: 42.704075N Longitude: -81.148149