Vanderburgh, Barnett aka Barnabas and Barney was born Dec 1786 at Poughkeepsie New York State,  United States to parents Peter H Vanderburgh and Neeltje Dutcher, who all became United Empire Loyalist.
On 18 July 1811 he married Hannah Soules daughter of UEL Daniel Soules and Achsah Elizabeth Hollingshead at Thornhill.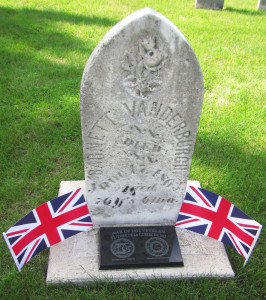 During the War of 1812 he was a Lieutenant in both the 1st Regiment and the 3rd Regiment York Militia. His Company was present at the battle of Queenston Heights 13 Oct 1812 and Barnet was one of the soldiers who carried General Brock from the battlefield.
He was taken prisoner by the Americans 27 April 1813 but was quickly released.
After the war he ran a tavern in Richmond Hill until 1832 when he moved to Innisfil, settling 100 acres on the south half of Lot 16 Conc 11, Innisfil, today the northeast corner of Yonge Street and Lockhart Road.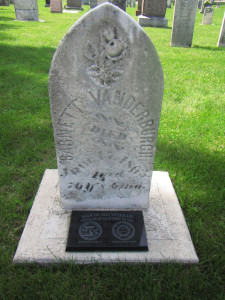 Being an officer and receiving other parcels of land, he was also allocated Lot 26 Concs 13 & 14, Innisfil which he sold to his brothers-in-law, David and James Soules, the second settlers in Innisfil.
Barnett had a feisty personality and had been brought before the courts for assault on a few occasions. Barnet died 17 June 1863 and is buried with his wife in the Victoria Methodist Cemetery now known as the Stroud, St James United Church Cemetery, Innisfil.
Veteran Summary
Barnett Vanderburgh
Lieutenant, 1st Regiment York Millitia
Place of Birth
Poughkeepsie, NY, USA
Place of Death
Stroud, ON, CAN
Died on: 17 JUN 1863
Reason: Old Age
Location of Grave
St. James Cemetery, Victoria St
Stroud, in the Town of Innisfil, Simcoe County, ON, CAN
Latitude: 44.323702N Longitude: -79.921545