John Grace¹ was born in Ireland on March 23, 1779.  He joined the Royal Newfoundland Regiment of Fencible Infantry on December 14, 1804 and during the War of 1812 he was present at the Battle of York on April 27, 1813.  He was in the 2nd Company under the command of Captain William Morris from 1811 to 1814 and was discharged on June 24, 1816 when the regiment was disbanded.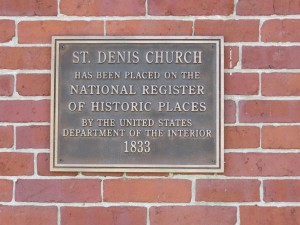 While stationed in Quebec City with the Royal Newfoundland Regiment, John married Elizabeth Ferguson at the Cathedral of the Holy Trinity on January 10, 1813.
Shortly after the marriage, Elizabeth moved to Whitefield, Maine in the United States and gave birth to their first child also named John.  After John Sr. was discharged from the Royal Newfoundland Regiment he travelled to Whitefield and remained there until his death on December 24, 1836.  In total they had ten children all of whom were born in Whitefield.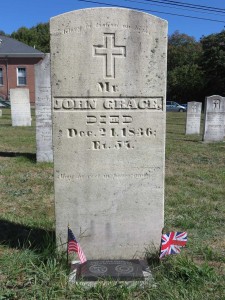 Following John's death, Elizabeth and most of her children remained in Whitefield until 1840 and then moved down to Boston, Massachusetts most likely between 1840 and 1842.  Elizabeth lived out her remaining days in Boston residing with several of her children.  Edward, Eliza, Margaret, and Lucy Ann all married and remained residents of Boston.  Thomas Henry moved with his family to the state of Iowa.  Charles, who lived in western Massachusetts, became a clergyman and performed the marriage ceremony between Elizabeth Richardson (Eliza's daughter) and Thomas Keefe.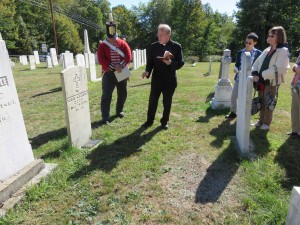 The youngest son James, enlisted with the United States Union Navy during the Civil War and sometime later also moved out to Iowa to be in the same town as his brother Thomas Henry.  It is currently unknown what became of John Jr., William, and Harriet.
Notes
There were two men named John Grace in the Royal Newfoundland Regiment of Fencible Infantry.  The John Grace mentioned here is noted as John Grace (2) in the muster rolls.
Veteran Summary
John Grace
Private, Royal Newfoundland Regiment of Fencible Infantry
Place of Birth
Unknown, Unknown, Ireland
Place of Death
Whitefield, MA, USA
Died on: 24 DEC 1836
Reason: Unknown
Location of Grave
St. Denis Cemetery, 298 Grand Army Road
Whitefield, MA, USA
Latitude: 44.228995N Longitude: -69.613306