John Pearce was born in 1777 in Rhode Island. He moved to Erie Pennsylvania sometime before 1800 and married Frances Patterson. In 1808, he and his brother-in-law Leslie Patterson made an trip to Upper Canada when they learned that tracts of land were opening for settlement. They found the Talbot Settlement on the shore of Lake Erie to be to their liking and Thomas Talbot gave them lots. They brought their families the next year. A worker for Colonel Talbot had already begun to grow crops on Pearce's land prior to their arrival.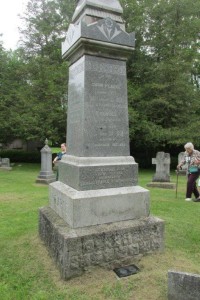 In 1822, the Pearce home was used as one of the first schools in the vicinity. The teacher was Thomas Gardiner. Supposedly, Fanny Pearce vacated her large kitchen for the classes. (Source: Vanished Villages of Elgin County by Jennifer Grainger).
It is documented that John Pearce saw action as a member of the militia when it was called out to repel a raid on 20th May, 1814.  Because the Talbot Settlement was raided six times between November 1813 and November 1814, Pearce was probably called out numerous times.
It is also documented that the Pearce family suffered losses during raids on Port Talbot: a horse, saddle, bridle, harness, sheets and table linen, bedding, beds, coats, wearing apparel, household items, razors, and cash.
John Pearce died 23 July 1850 and is buried in St. Peter's Cemetery, Dunwich Township.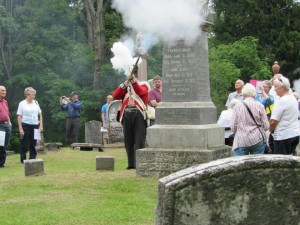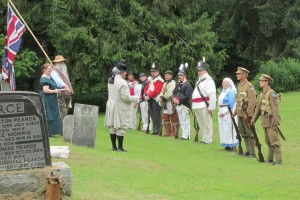 Veteran Summary
John Pearce
Sergeant, 1st Regiment Middlesex Militia
Place of Birth
Unknown, RI, USA
Place of Death
Tyrconnell, ON, CAN
Died on: 23 JUL 1850
Reason: Likely Old Age
Location of Grave
St. Peter's Anglican Church cemetery, Lakeview Line
Wallacetown, ON, CAN
Latitude: 42.606754N Longitude: -81.439883