John Westbrook was born in New York State and was captured by the Indians as a child.  He was later traded back to the Americans in an exchange of prisoners.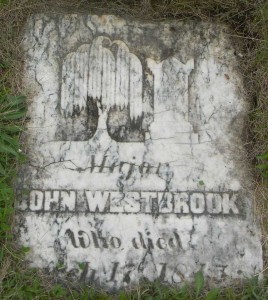 Westbrook and his brother were treated well by the Indians and came to love the area.  They persuaded their father Anthony to bring the family back to the area and so in 1783 they crossed the border and settled on Fairchild's Creek in what is now the Cainsville area of the County of Brant.
Westbrook fought with distinction during the War of 1812, in the 5th Regiment Lincoln Militia commanded by Lieutenant Colonel Andrew Bradt, eventually attaining the rank of Major before his death in 1845.
Veteran Summary
John Westbrook
Major, Indian Lands 5th Regiment Lincoln Militia
Place of Birth
Unknown, NY, USA
Place of Death
Cainsville, County of Brant, ON, CAN
Died on: 17 MAR 1845
Reason: Old Age
Location of Grave
Westbrook Cemetery, 30 Shaver St
Cainsville, ON, CAN
Latitude: 43.1472N Longitude: -80.1805