Adoniram Young was born in February 1784 in Arlington, Bennington County. Vermont, USA.  His parents were Esther Burritt Young Benedict (1765-1835), daughter of Daniel Burritt UE (1735-1827), and Joseph Young (1760-1787)  of Vermont, USA.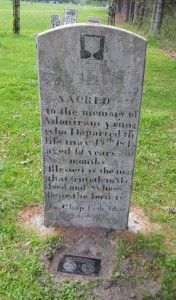 Adoniram was living in Marlborough Township, Upper Canada as early as 1804 per the census. He followed his mother's brothers (Stephen and Major) to Canada and served as a private under command of Captain Major Burritt from September 25th 1813 to December 24th 1813. He was later promoted to Sergeant under command of Daniel Jr. Burritt (both were his uncles) of the 2nd Regiment Grenville Militia who served in the Upper Canada Militia during the War of 1812.
The regimental muster rolls and pay lists provide an invaluable resource for genealogists and historians. Adoniram Young along with his uncles and cousins fought wtih the regiment in four engagements against the American forces: at Prescott October 4th 1812, Salmon River Novemeber 23rd 1812, Ogdensburg February 22nd 1813, and the Battle of  Chrysler's Farm on November 11th 1813.
He was married to Jane Jean Brown (her father was a Loyalist, Nathan Brown) in Grenville County, Ontario by 1806 and they had thirteen children.  His daughter Esther (1809-1903) married Daniel Hamlet Burritt Jr. (1804-1887) and lived in the original Burritt homestead/farm in Burritt's Rapids all of their lives. He died 19 May 1845 and is buried at the graveyard at Christ church Anglican Church in Burritt's Rapids, Ontario at Lot 25 Conc 1, Marlborough Township. His monument inscription reads:
"Sacred to the memory of Adoniram Young who departed th life May 19, 1815 aged 61 years & 3 months ."
Veteran Summary
Adoniram Burritt Young
Sergeant, 2nd Regiment Grenville Militia
Place of Birth
Arlington, Bennington County, VT, USA
Place of Death
Burritt's Rapids, ON, CAN
Died on: 19 MAY 1845
Reason: Not due to War
Location of Grave
Christ Church Anglican Cemetery, County Rd. #2 (9km East of Merrickville at 4419 Donnelly Drive)
Burritt's Rapids, ON, CAN
Latitude: 44.98339N Longitude: -75.79896