Asahel Hurd was born in November 14th 1768 in Arlington, Bennington County. Vermont, USA.  He was a son of Loyalist  Phineas Hurd and Anna  Hawley originally from the United States. He  was a private/commanding officer  and then promoted to captain  of the 2nd Regiment Grenville Militia company who served in the Upper Canadian Militia during the War of 1812.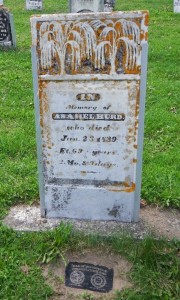 The regimental muster rolls and pay lists provide an invaluable resource for genealogists and historians. The regiment fought in four engagements against the American forces: at Prescott, Salmon River, Ogdensburg, and Chrysler's Farm. The current Brockville Rifles' battle honours include the "Defence of Canada: 1812-1815."
Captain Asahel Hurd was married in 1787 to Sarah "Sally" Burritt (1768-1803), and had at least eight children.
He died 23 Jan 1831 and his grave is also located at Christ Church Anglican Cemetery in Burritt's Rapids, Oxford-on-Rideau Township, Grenville County, Ontario, Canada and the gravestone still exists His monument inscription reads:
"In memory of Asahel Hurd who died Jan. 23, 1831 at 63 years 2 Mo. & 9 days.
Commanding Officer: Lieut. Colonel Stephen Burritt (Brother-in-Law)
Veteran Summary
Asahel Hurd
Officer, 2nd Regiment Grenville Militia
Place of Birth
Arlington, Bennington County, VT, USA
Place of Death
Burritt's Rapids, ON, CAN
Died on: 23 JAN 1831
Reason: Old Age
Location of Grave
Christ Church Anglican Cemetery, County Rd. #2 (9km East of Merrickville at 4419 Donnelly Drive)
Burritt's Rapids, ON, CAN
Latitude: 44.89339N Longitude: -75.79896