Stephen Burritt was born in New Milford, Litchfield County, Connecticut on 22 November 1759. He was one of 12 children, and the second oldest son, of Daniel Burritt, Sr. (1735-1827) and Sarah Collins (1733-1815) of Connecticut, later Vermont, and finally Augusta Township, Grenville County, Ontario, Canada.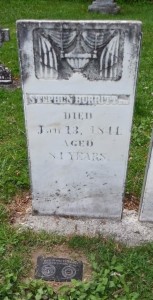 Like his brother Adoniram and their father, he was a United Empire Loyalist veteran of the American Revolution.  He served in Roger's Rangers from 1777 to 1783 and reached the rank of sergeant.  Following the war, he was granted Crown land in Upper Canada.  He founded the village of Burritt's Rapids, now within Marlborough Township, and built the first bridge across the Rideau River.
Circa 1790, Stephen Burritt married Martha Stevens (1771/2-1830), daughter of Roger Stevens (a United Empire Loyalist veteran of the Revolution, who had served as an ensign in the King's Rangers).  Stephen and Martha had six children:
Henry "Harry" Burritt, Sr. (1791-1872), m Remme Merwin
Edmund Burritt, Sr. (1793-1880), m Anna "Annie" Dunham
Sarah "Sally" Burritt (b 1800/01-1883)
William Augustus Burritt (b 1803)
Stephen Burritt, Jr. (b 1805), m Lois Dunham
Hamilton Burritt (b 1808)
Prior to the War of 1812 and in the years following the war, Stephen Burritt was very active in his community.  In 1800, he became a Justice of the Peace in the Johnstown District.  Between 1808 and 1812, he served as a Member of the Legislative Assembly of Upper Canada.  Circa 1820, he established a post office at Burritt's Rapids and became its first postmaster.  On 6 Oct 1839, he founded a Masonic Lodge in Marlborough Township.
On 15 Feb 1812, he was commissioned a captain in the 2nd Regiment Grenville Militia.  The same month, his brothers Adoniram and Daniel, Jr. were commissioned captains and his youngest brother Major was commissioned a lieutenant.  Stephen Burritt was quickly promoted to major and second in command, likely due to his extensive military experience during the Revolution.  He was promoted to lieutenant colonel on 5 June 1813, succeeding Lieutenant Colonel Thomas Fraser as commanding officer of the 2nd Grenville.
During the War of 1812, the 2nd Regiment Grenville Militia engaged the enemy at Prescott (4 October 1812), Salmon River (23 November 1812), Ogdensburg (22 February 1813), and the Battle of Crysler's Farm (11 November 1813).
The numerous members of his family who served under his command during the war included his brothers Captain Adoniram Burritt, Captain Daniel Burritt, Jr. (post-war colonel), Lieutenant Major Burritt (post-war major), his sons Lieutenant Henry "Harry" Burritt (post-war colonel) and Ensign Edmund Burritt (post-war colonel), his nephews Private Calvin Burritt, Ensign Truman Hurd (post-war captain), Ensign Ziba Marcus Phillips, Jr. (post-war lieutenant colonel), Sergeant Adoniram Young, his brothers-in-law Captain Asahel Hurd, Captain Jehiel Hurd, and his nephew-in-law Ensign Reuben Landon.  His relations who served in other regiments of the Upper Canadian militia during the war include brother-in-law Thomas McIlmoyle and nephew-in-law Lyman Stone.
The casualties suffered by the 2nd Grenville during the war (although a list of the war's militia casualties has never been fully compiled) include William Barton, Daniel Cross, Thadolphus Fuller, David Gillman, Silas Hamblin, William McIntyre, James Moore, Samuel Morey, Samuel Randolph, James Robinson, Joseph B. Robinson, and George Thompkins.
Soon after the war, Stephen's brother Daniel Burritt, Jr. was promoted to lieutenant colonel and succeeded him as commanding officer of the 2nd Regiment Grenville Militia.
In the years following the war, several of Stephen Burritt's siblings and many other members of his family moved to the vicinity of Burrit's Rapids.  As a justice of the peace, he presided over the marriages of several members of the large, extended, and rapidly growing Burritt family.  His sword, epaulets, and sash are currently in the possession of the Blockhouse Museum in Merrickville, Ontario as a lasting tribute to one of the most adventurous, enterprising, and patriotic pioneers of Upper Canada.
Commanding Officer: Governor-in-Chief and Commander-in-Chief Lieutenant General Sir George Prevost
Veteran Summary
Stephen Burritt
Lieutenant Colonel, 2nd Regiment Grenville Militia
Place of Birth
New Milford, Litchfield County, CT, USA
Place of Death
Burritt's Rapids, ON, CAN
Died on: 13 JAN 1844
Reason: Old Age
Location of Grave
Christ Church Anglican Cemetery, County Rd. #2 (9km East of Merrickville at 4419 Donnelly Drive)
Burritt's Rapids, ON, CAN
Latitude: 44.98339N Longitude: -75.79896