Isaac Huff was born c 1791 in Dutchess County, New York to parents Isaac and Sarah (Tripp) Huff. He married twice, first to Elizabeth, surname not proven, and second to Amarilla Smith.
Isaac Huff, occasionally spelled Hough, participated in the War of 1812-1815 as a Private. In Sessional Papers at Library and Archives Canada, he is identified on page 44 Volume IX, 1876 (volume 6) Sessional Paper number 7 as a veteran who had proved his right to partake in a grant of $50,000 voted by parliament in favour of militiamen of 1812-15. No original applications have survived.
In 1875 he was 81 years old and lived in Spring Brook, (Springbrook, Rawdon Township) Hastings County. The application was made through M. Boswell, MP and he received $20.00. The corps named was Lennox. Isaac Huff was found on pay lists with the 1st Regiment Lennox Militia, online at the website of Library and Archives Canada (War of 1812 Upper Canada Returns, Nominal Rolls and Pay Lists, RG9 1B7, Microform t-10383 pages 31 and 156). He was one of a detachment stationed at the Wind Mill in Fredericksburgh commanded by Lieutenant Duncan Bell. His Captain was Elisha Philips.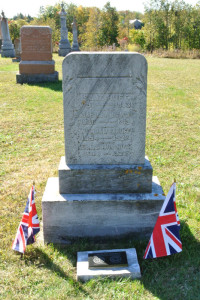 While a young man, Isaac Huff participated in the defence of his country. Little is recorded officially of his service but in an interview many years later his daughter Elizabeth (sometimes Lydia) Huff, who was by then approaching the 60th anniversary of her marriage to James McInroy, "modestly related to the [Peterborough] Examiner [15 February 1937] how her father, the late Isaac Huff, who died at the advanced age of 92, was a soldier who was close to General Brock when the latter fell in battle. He was given a captain's commission but never used it. His birthplace was in Duchess [sic] County, in the USA." One wonders why he did not accept that captain's commission…
The participation of Isaac Huff in this war is especially interesting as he was one of the Society of Friends, the Quakers — a peace sect. His mother Sarah Tripp, although not herself adhering to the Society of Friends, was descended from folks who definitely were Quakers, the Tripp family of Rhode Island. She had many descendants who regarded themselves as Quakers, including her son Isaac. Also, Isaac's father, Isaac Huff Sr may have had Quaker leanings as his brother William's marriage was recorded in the Nine Partners Monthly Meetings in Dutchess County. Whether because of, or in spite of, his parents beliefs, Isaac Huff (junior) the Veteran of the War of 1812-1815 identified himself as a Quaker throughout his life.
Isaac Huff first married Elizabeth. The surname frequently seen for her is Bowerman but a source document to prove this has not been found. The couple was enumerated in Blenheim, Hallowell Township, Prince Edward County in the 1851 census; no children are listed. If children were born to this couple they were not in the household at the time. Isaac was noted as age 61, born in the "State N York" and Elizabeth, age 54, born in New Hampshire. Both were Quakers. Isaac was a farmer.
At the time of the 1851 census, most neighbours of Isaac and Elizabeth Huff were Quakers. Many who were a similar age to Isaac who was sixty-one, were recorded as born in the State of New York. Most folks of the younger generation were born in Upper Canada.
Evidently, Elizabeth died soon after that. It was published in the Christian Guardian that Isaac Huff of Hallowell married on 25 December 1855 Amarilla Smith of the same place.  Rev. CR Allison officiated. A woman about 35 years younger than he, she was the daughter of William Smith and Eva Vandenburgh. Amarilla Smith was born 1 August 1827 and died 14 May 1917 in Havelock, Peterborough County, Ontario.
In the 1861 census Isaac Huff, age 70, his wife Amarilla age 33 and two children William, age 7 and Lydia, age 4 were enumerated. All were identified as Friends, ie, Quakers. The family now lived in Rawdon Township, Hastings County. Only one close neighbour, the family of William Burton, was the same religion!
In 1871 Isaac Huff was again enumerated in Rawdon Township, Hastings County with his wife Amarilla. Their children were William, age 16, Jane, age 13 and Ann, age 3. Isaac was a farmer and identified his religion as Quaker; the children were also Quaker. But Amarilla's religion was identified as Wesleyan Methodist. The one neighbouring family who had stated in 1861 that their religion was Quaker, in 1871 were Methodists!
By 1881, William Huff, age 27, son of Isaac and Amarilla (Smith) Huff was identified as the head of the household in which Isaac and Amarilla were living. At this time, Isaac Huff, age 89, was the only Quaker. The other family members were C Methodist.
As stated earlier, it is interesting that a young man, with Quaker background and with his lifelong commitment to that sect, would choose to participate in armed conflict.  The website of the Quaker Archives and Library of Canada includes an article that summarizes their beliefs and convictions regarding war and conflict. The article in its entirety can be found at The Quaker Archives and the Library of Canada
Isaac Huff appears to have been the exception to the majority of Quakers! He did take up arms in the defence of Upper Canada against the American invasion in the War of 1812-1815. If he had joined the Society of Friends after his participation in that conflict it appears he still felt it was it was an acceptable thing to do as he applied, about 60 years later, for a government pension — a reward  for participation in that war! Many questions arise, most of which can never be answered. But we who now live in Canada have benefitted from his contribution. The identity of Canada as the country it is now began with a community uniting to repel the attack of a foreign invader. Some, including Isaac Huff, must have struggled with their role in that conflict!
Veteran Summary
Isaac Huff
Private, 1st Regiment Lennox Militia
Place of Birth
Dutchess County, NY, USA
Place of Death
Rawdon Township, Hastings County, ON, CAN
Died on: 27 JUL 1883
Reason: Old Age
Location of Grave
12th Line Cemetery, Concession 12, Lot 19
Rawdon Township, Hastings County, ON, CAN
Latitude: 44.41337N Longitude: -77.66856