James Cotter, veteran of the War of 1812, was the son of a United Empire Loyalist, James Cotter Senior.  His father, in his Loyalist Claim (Ancestry.ca) stated that he was "a Native of Ireland", that he "came to America 36 years ago", that he "lived in Johnstown", that he "came with Sir John [Johnson] to Canada at first", and that he "served all the War". His name appears in several sources including his Upper Canada Land Petition and the book, The History and Master Roll of The King's Royal Regiment of New York, [KRRNY] Revised Edition (2006) by Brigadier General Ernest A. Cruikshank and Gavin K. Watt. This source identifies his wife as Lucretia. (This source also indicates a wife Magdalena (1785) but evidence to support this has not been found.) As well as James Cotter Junior, James Cotter Senior had an older son, Richard, who also served with the KRRNY, as a sergeant. Richard married Experience Rose, daughter of Loyalist Matthias Rose. He died in 1791 with one son, David Cotter. James Cotter Senior also had a daughter, Eleanor, who married Loyalist John Dusenbury. The couple had several children.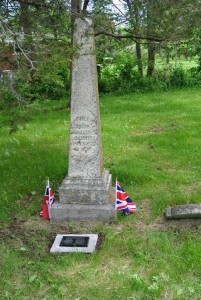 Based on the Loyalist Claim of his father, James Cotter Junior was born in New York, probably at Johnstown. His headstone indicates that he was b 1772, as he d 18 January 1849 aged 77 years, 6 months and 10 days.
The 1794 Upper Canada Land Petition (hereafter Land Petition) of James Cotter Junior "son of James Cotter Senior, Loyalist" requested 200 acres of land in the Midland District. He settled  first in Fredericksburgh Township and moved about 1817 to Sophiasburgh Township.
James Cotter Jr. married Magdelena Hoffman. She was the daughter of Loyalist, Conradt Hoffman, as evidenced by her 1797 Land Petition. The Parish Register of Rev. John Langhorn, shows that James Cotter of Fredericksburgh married Magdelena Hoffman, 4 Nov 1794. His will, written in 1848, included provision for his wife Magdelena. They had at least seven children several of whom applied for land grants as the children of Loyalists. They are included in the book Loyalists in Ontario: Sons and Daughters of American Loyalists by William D. Reid. The Archives of Ontario summarize this book, "…lists people mentioned in orders-in-council authorizing land grants to United Empire Loyalists or their sons and daughters."
Indeed the children of James Cotter Junior were granted land on the grounds that their father was a United Empire Loyalist. The children are listed below. (O.C. indicates Orders-in-Council.)
James BF of Hamilton. OC 23 Nov 1840
Richard CH of Ameliasburgh. OC 4 Feb 1837
Samuel PM of Sophiasburgh. OC 17 Aug 1842
Elizabeth, bapt. 11 March 1804; m Allen Munro of
Sophiasburgh. OC 17 August 1842
William H of Sophiasburgh. OC 17 August 1842
Eleanor, bapt. 10 Dec 1797; m Samuel Solmes of
Sophiasburgh, 22 May 1817. OC 17 Aug 1842
Lucretia, m Samuel Munro of Sophiasburgh. See ret. 1850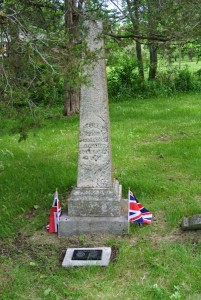 Online genealogies include two additional children, Katreen born 21 June 1795 in Fredericksburgh and Mary Ann born 1 February 1807. Further investigation is required to prove this.
During the War of 1812, James Cotter was a Captain in the 1st Regiment of Prince Edward Militia.  Library and Archives Canada have digitized images from War of 1812: Upper Canada Returns, Nominal Rolls and Paylists. Captain James Cotter can be found with his company.
The book Officers of the British Forces in Canada during the War of 1812-15 by L. Homfray Irving includes James Cotter. On page 54 he is noted as being on duty at Kinston under Colonel Richard Cartwright from 25 June to 24 December, 1813. On page 58 he is identified as a captain of a Battalion Company with the 1st Regiment of Prince Edward Militia.
A more personal look at this War of 1812 veteran, James Cotter, is found in the 1850 Land Petition of deceased veterans: Henry McDonnell, Cornelius Vanalstine and James Cotter. The petition on behalf of the executors of the will of James Cotter was made by Daniel Robbins Esquire. The file contains several depositions in support of the claim for recognition of service during the "late war".
A sampling from the statements reads:
"… was well acquainted with the late James Cotter and [other captains]… know that they served as Captains at the Port of Kinston in 1812… deponent knows this fact from the circumstance of having been on duty at the same time…" (Samuel Huff)

"… the late Captain James Cotter… was the same person that commanded a flank company of the Prince Edward Militia in 1812 — and that he was formerly Chairman of the Quarter Sessions in that District…" (Isaac Fraser, late Lieutenant Militia Dragoons on duty in 1812)

"… knows he (James Cotter) served as captain having served in his company." (Samuel Solmes, Esq.)
Several other men made similar statements regarding the involvement of James Cotter in the War of 1812: David Champion Smith, John Vandyck, Nicholas Lazier, Charles Everett, Peter W. Ruttan, and William Ashley. Eventually, 16 August 1850 the "Committee recommended that Scrip equal to eight hundred acres be granted as prayed for, and that, the like quantities of Scrip be granted on each of the claims of Captain Henry McDonnell and Cornelius Van Alstine of the Prince Edward Militia…"
A succinct summary of the various accomplishments of James Cotter is found in Becoming Prominent: Regional Leadership in Upper Canada, 1791-1841 by James Keith Johnson (1988). Both prior to and after the War of 1812, James Cotter was heavily involved in serving and leading his community.
The military leadership of James Cotter began by 1807 when he was a lieutenant in the Prince Edward Militia. Then, in 1812 with the outbreak of war with the USA, he was found as a captain with the 1st Regiment Prince Edward Militia. By 1827 he was a major, by 1830 a lieutenant colonel, and a colonel of the 3rd Regiment Prince Edward Militia by 1833.
His public leadership began as early as 1808 when James Cotter became a Justice of the Peace of the Midland District. With the formation of the Prince Edward District in 1834, he then became a JP for that area.  James Cotter became a judge in the Prince Edward District Court 29 September 1837.
James Cotter made a brief foray into the political arena.  He was elected to the Legislative Assembly of Upper Canada in 1816 for the Prince Edward District. At that time he would have been known as an MHA, Member of the House of Assembly. All parliamentary sessions were held at York, Upper Canada at the home of Chief Justice of the Court William Henry Draper. This was the 7th Parliament of Upper Canada. It was dissolved 3 May 1820 on the announcement of the death of King George III. James Cotter did not sit again as an MHA.
Notes
In researching my husband's ancestors for recognition under this project and the basis of its foundation,
"We are a non-profit group that have come together to ensure that the War of 1812 veterans get the recognition that they deserve, not only in the defense of Canada, but also for their dedication in building the foundation of the Canada that we live in today"
James Cotter definitely played an integral role in building the foundation of Canada.  I found it rewarding to research and submit his name to this project.
Veteran Summary
James Cotter
Captain, 1st Regiment Prince Edward Militia
Place of Birth
Johnstown, NY, USA
Place of Death
Sophiasburgh Twp, Prince Edward Cty,, ON, CAN
Died on: 18 JAN 1849
Reason: Unknown
Location of Grave
Lazier-Cronk Cemetery, Con 1 Lot 17 Sophiasburgh Twp
Prince Edward County, ON, CAN
Latitude: 44.15131N Longitude: -77.14403