Early roads in Niagara followed the shores of the river and the banks of the Chippawa Creek, Lyons Creek and the Black Creek, therefore, the first areas settled were along these pioneer roads.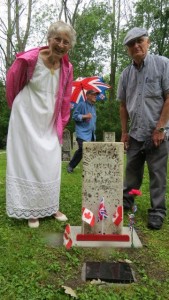 Arriving at Niagara in 1786, the first members of the Dell family, William Dell, his wife Hannah Steinhoff and their two small children settled along the shores of the Lyon's Creek in Willoughby Township.
Two years later (1786) saw the arrival of William's parents Basnett and Hannah Dell, their daughter Rebeccca and sons Henry, Nathaniel and Burris.  The last of the Dell family, Basnett Jr. his wife and children, arrived a few years later.
The subject of this biography, Burris Dell, son of Basnett Dell Sr. and Hannah (née Burris) Dell, was born in Sussex County, New Jersey in February of 1772.  He was 14 years of age when in 1786 he arrived in Niagara with his parents and siblings. Upon their arrival Basnett Dell and family set about erecting a log home and tilling the soil.
In 1790 at 19 years of age Burris married  Joanna (presumably Buckner) who was born in Ontario in 1775.
The following children were born to this marriage:
Jonathan Dell b c1795
Mary Jane Dell b 1795
Thomas Jonah Dell b 1799
Susan Dell b 1800
William G. Dell b 1802
From Township Papers of the Niagara Settlers (Crowland) we find the following: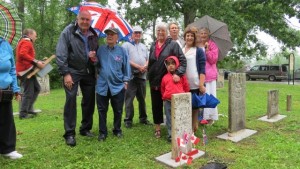 On 3 May 1791 the Land Board read the petition of Burrice Dell for a grant of two hundred acres of land in Township #2 above Chippeway (Crowland) and found him qualified to receive two hundred acres of land. The order was referred to Acting Surveyor General Augustus Jones who assigned to him two hundred acres in Lots 4 & 5 Conc 5 in the Township of No. 2 above Chippeway. (Crowland Township Papers 0291)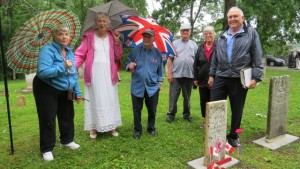 Then on 9 Aug 1796 Acting Surveyor General DW Smith prepared a surveryor's assignment for Burrice Dell for two hundred acres of land in Lots 4 & 5 Conc 5, Crowland Twp. (Crowland Township Papers 0294)
Farm animals were identified with a special mark. On 2 Mar 1807, Burris Dell registered his ear mark. It was "a crop off the right ear and a half penny in the under edge of the left."  This ear mark was passed to his son Jonathan 5 Jan 1844.
When the war of 1812 broke out in Niagara Burris was 40 years of age with wife and five children.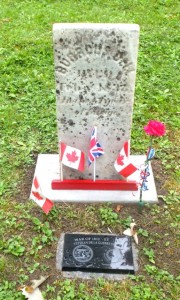 Burris served as a Private in the 3rd Regiment Lincoln Militia under Captain Henry Buckner.  His sons Jonathan Dell and Jonah who were born in 1795 and 1799 respectively also served during the War of 1812.
Burris' military service is documented within the National Archived digitized War of 1812 Upper Canada Returns, Nominal Rolls and Paylists RG 91B7 Mikan 183676 Reel T10386.
On 27 May 1813 Burris Dell along with his sons Jonathan and Jonah were among the almost 2,000 soldiers who were  arrested when Fort George was captured by General Dearborn.  They were arrested and released the same day (27 May 1813).    Source: www.1812privateers.org
As further proof of his service a copy of page from this document is submitted with this application.
In A Century of Municipal History by Ernest Cruikshank, we find that civically minded Burris Dell served as Assessor in 1808 and 1809 and then again in 1813. He was Town Warden in 1819 and later that same year he was listed as Assessor.
Burris Dell passed away at Crowland Township, Lincoln County in 1832. He   was buried in the Young Misener Cemetery.  Throughout our research we have found that there have been various spellings of his name. At various times he appears as Burrous, Barrice, Burrice, and Burrus. On his gravestone we find that his name is spelled Burrous.   When his wife Joanna passed away on 13 April 1850 she was buried in the newly opened Dell Cemetery in Willoughby Township.
Family LInks: Nephew Peter Dell, Nephew Martin Dell, Nephew Henry Dell
Veteran Summary
Burris Dell
Private, 3rd Regiment Lincoln Militia
Place of Birth
Sussex, NJ, USA
Place of Death
Crowland Township, ON, CAN
Died on: 01 FEB 1833
Reason: Unknown
Location of Grave
Young Misener Cemetery, Grassy Brook Road
Niagara Falls, ON, CAN
Latitude: 43.040024N Longitude: -79.168003