William Buck, son of Philip Buck and Anna Marguerite Saultman, was born in 1788 in Bertie township, Lincoln County, Niagara.
His father Philip who was a native of Germany had been brought to America as an infant by his parents.  Philip Buck had settled on the Susquehanna River in Pennsylvania where had purchased land, had cleared 15 acres, had built a house, a barn and a barrack.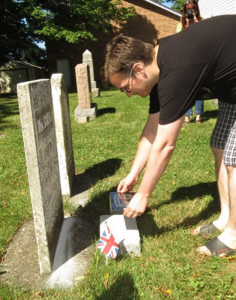 Philip Buck had enlisted in 1777 at Fort Stanwix and was a private in Colonel Butler's Regiment during the Revolutionary War.  He was taken prisoner, served 18 months in jail, was exchanged in 1778 in New York and rejoined Butler's Rangers at Fort Niagara. He served with Butler's Rangers until the end of the war.
In Philip's petition it is stated that he had "suffered much in his imprisonment during the war." Also, while away, his home had been plundered, he had lost "two cows, two young creatures, four sheep, twenty hogs, his furniture, utensils and one hundred bushels of grain in part taken by the rebels in 1777 and then the remainder had been plundered by the Indians in 1778."
With their men away and in prison, the wives and children were being threatened and very poorly treated. Deciding they could not stay in their homes the five women decided to take the chance of walking to Fort Niagara. Mrs. Buck and their seven children were among the group of five women and thirty two children who walked to Niagara in the fall of 1778. They arrived tired, hungry and frightened at Fort Niagara on November 3, 1778.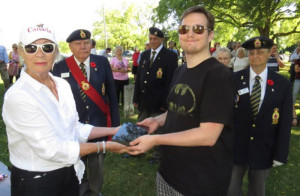 "Claimant is a very good man" was written in margin of Philip's petition by the Commissioner.
Final words in a certificate to the Executive Council by Parshall Terry Justice of the Peace and attached to Philip's petition "Further Say he is an honest in Dustious Man."
Philip had received 400 acres of land Lots 6 and 7, Concs 8 and 9  in Bertie. Then on 14 July 1796 the Executive Council held that he was entitled to 300 additional acres to complete his family lands.  By this time of Philip and Marguerite consisted of 11 children.
William Buck (born 1788) was the fifth son of Philip and Anna Marguerite Buck.
William married Sarah Willson (born 1793) daughter of Gilman Willson and Hannah Sypes.  William and Sarah were married on July 12, 1808.
The following children were born to William and Sarah:
Robert Buck born 1841 at Bertie
Willson Buck  born 1809 at Bertie
Philip Buck  born 1811 at Bertie
Margaret Buck born 1813 at Bertie
Hannah Buck born 1815 at Bertie
John Buck born 1820 at Bertie
Mary Jane Buck born 1833 at Bertie
Ida Almeda Buck born 1835 at Bertie
William Wallace Buck born 1838 at Bertie
Stephen Buck born 1839 at Bertie
Sarah Buck born 1840 at Bertie
He would have been 24 years of age when the War of 1812 began.
William would have been 24 years of age and married with three children when the war of 1812-1814 began.
During the first year of the war William was a Private with Captain Hardy's Company. He was on the unit muster roll from Oct 10th to Nov 24th with the notation "on furlough."
During the following years 1813-1814 he was a Private with Captain William Powell's Company. He was in unit muster roll from June 19th to July 24th and from July 25th to August 24th 1813 and again in the muster rolls of 1814.
His military service is documented within the National Archives digitized War of 1812 Upper Canada Returns, Nominal Rolls and Paylists  RG 91B7 Mikan 183676. Scans of pages from the Collections Canada website which prove his service have been attached to this application.
On March 6th 1813 Phillip Buck willed to William Buck his fifth son and to Peter Buck, his seventh son and their heirs and assigns his Home-stead farm to be equally divided between them Lots 6 and 7, Conc 8 from the Niagara River, Bertie Twp. (B241#12417).
After the war many Bertie Township residents filed claims for compensation for property damages  caused by the enemy.   William Buck's claim for damages suffered at the hands of the enemy is listed at Archives Ontario, Claim #342 in Schedule of Claims, Class 2, Township of Bertie, District Niagara.  He claimed a horse taken by the enemy and valued his loss at 25 pounds. Payment recommended was 15 pounds.
William Buck died on 16 March 1852 at 64 years of age and is buried in St. John's Anglican Cemetery in Ridgemount, Fort Erie, Ontario. His wife Sarah died on 14 November 1872 at 79 years of age and is buried beside William.
Report to: Captain William Powell
Veteran Summary
William Buck
Private, 3rd Regiment Lincoln Militia
Place of Birth
Bertie Twp., Lincoln County, ON, Upper Canada
Place of Death
Bertie Twp., Lincoln County, ON, CAN
Died on: 16 MAR 1852
Reason: Unknown
Location of Grave
St. John's Cemetery, Ridgemount Road
Fort Erie, ON, CAN
Latitude: 42.935592N Longitude: -79.004706