Research compiled by the Heritage Arts Legacy of Fort Erie
Captain John Baxter   1776 – 1837
The Baxter family were among the band of refugees who landed in Miller's Bay in November of 1783.
There is some debate about the parentage of John Baxter.  Some records show him as the son of Jacob Baxter and Rebeccca Beam while others refer to him as the son of David Baxter.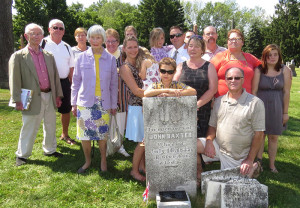 In 1786 David Baxter Sr. obtained a ticket from Major Campbell for 240 acres of Lot 3, Concs 1 and 2 L.E. including Broken Front.  Apparently David passed away or disappeared shortly thereafter leaving a wife and four sons, the eldest of whom were Thomas and John. A character reference from Commissionary John Warren Sr. was attached to the 1796 petition to transfer David's land to his sons. It reads…
"Thomas and John Baxter's from Boys they have grown up to Manhood, and by their honest industry has maintained their Mother and two younger Brothers' their modest good behaviour has attracted the attention of several Commanding Officers of this Post."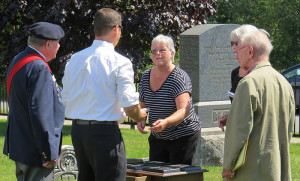 John settled in Bertie Township. The History of Welland County describes John Baxter as an United Empire Loyalist and among the earliest settlers of the County. In 1796 John and his brother Thomas had received the transfer of their father's lands. They had also petitioned for lands for themselves.  On 12 July 1796, they were not only confirmed in possession of the lands they already occupied, containing about 240 acres, but were each granted an additional 200 acres. (Source: Welland County Historical Society Papers and Records, Volume 5, 1938)
In 1796 John Baxter received 60 acres in the west part of Lot 4, Conc 9 in Bertie.  (Source: Local historian John McDermott.)
John Baxter's name appears on the 7 March 1808 list of names of citizens who contributed two shillings each toward a fund for relief for the poor. (Source: E.A. Cruikshank  A Century of Municipal History part 1 1792-1841)
Captain Baxter married Elizabeth Zavitz,  (1780-1846) of Pennsylvania, the daughter of Jacob Zavitz (1752-1815) and Catherine Learn, (1760-1856).
John and Elizabeth had ten children:
John Baxter
Catharine Baxter
William Baxter
John Baxter
Margaret Baxter
Elizabeth Baxter
Burch Baxter
Jesse Baxter
Henry Baxter
Thomas Baxter
John and Elizabeth's son William Baxter (1805-1875 married Malinda M. Miller (1811-1863), daughter of Andrew Miller and Elizabeth Everett, on February 18, 1832.
John Baxter was a Captain in the War of 1812, being in the Battle of Fort Erie and other engagements. The wounded in Fort Erie were taken to Capt. Baxter's barn, four miles away, to have their wounds dressed, according to The Canadian Biographical Dictionary and Portrait Gallery of Eminent and Self-made Men (Ontario Volume).
Captain John Baxter's military service is documented within the National Archives digitized War of 1812 Upper Canada Returns, Nominal Rolls and Paylists  RG 91B7 Mikan 183676.
At the beginning of the war, in the spring of 1812, John Baxter was listed as a Lieutenant in the 3rd Regiment Lincoln Militia.  He served at "Fort Erie and domains" from  April to November of 1812 where returns and pay lists show him as Captain Baxter.  He was officially promoted to Captain of the 3rd Regiment Lincoln Militia on  January 25, 1813.  John Baxter commanded the 5th Company of the Lincoln Regiment and served at "Fort Erie and domains" until May 24, 1813.  He was paroled at Fort George on 27 May 1813 at the fall of Fort George. He was taken Prisoner of War at Fort Erie on 10 June 1813, held as P.O.W. at Pittsfield, Massachusetts and returned on March 10, 1815.
Sources:
War of 1812-1814: National Archives RG9,1B7
Promotion:  National Archives, RG9, 1B7, Vol. 2
Prisoner of War: Captured in the War of 1812.  Prisoner of War Camps in America,  D. Hemmings & J. Lichty
After the war many Bertie Township residents filed claims for compensation for property damages caused by the enemy. John Baxter's claim #334 for damages caused by the enemy is listed in Schedule of Claims, Class 2, Township of Bertie, District Niagara at Ontario Archives.  Claimant John Baxter stated that his hogs,  mare, sheep and wagon were taken by the enemy and he valued them at 159 pounds, 12 shillings, 6 pence. Claim was supported by several affidavits and ceritficates as well as declaration of claimant.  Payment recommended was 133 pounds.
John Baxter was Tax Collector in 1819 and Town Warden in 1827 and 1830.
John Baxter died on July 16, 1837 at 61 years of age and his wife Elizabeth died on April 6, 1846 at 66 years of age. They are buried in Ridgeway Old Cemetery, Ridgeway, Ontario. At the time of John's death his property was listed at Lot 28, Broken Front, east of Point Abino in Bertie Township.
Commanding Officer: Lieutenant Colonel John Warren
Veteran Summary
John Baxter
Captain, 3rd Regiment Lincoln Militia
Place of Birth
, , Ireland
Place of Death
Bertie Twp., Lincoln County, Upper Canada, ON, CAN
Died on: 16 JUL 1837
Reason: Unknown
Location of Grave
Ridgeway Old Cemetery, Farr Road
Fort Erie, ON, CAN
Latitude: 42.87759N Longitude: -79.053867