October 6th 1776, James spelled M-I-G-H-E-L-L-S but pronounced "Miles" was born in Brimfield Massachusetts, to Abner Miles and Mercy Hayes who had married January 4th, 1776.  James was named after his Uncle.  James moved with his mother, father and at least two sisters of his five sisters to Genesee, New York.  James being 14 at this time would have assisted his father in their combined general store, inn, and cobbling business that served the first wave of settlers in that region.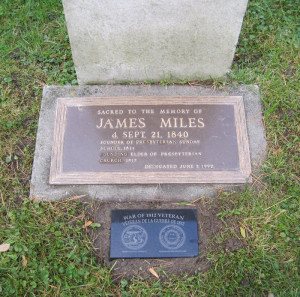 In 1796, at the age of 20, James would have being working in his father's general store on King Street in York, with a stock-in-trade of foodstuffs, liquor, clothing, tools, building supplies, household goods and with an expanded premises to  include a public house serving food and drink and providing lodging for travellers.  In 1800, the family of two parents, James and his five sisters moved to the Markham township area that was soon to be called Miles Hill.
When James was 30, his father died and James took over full control of the almost 2,000 acres of land and various business that he inherited.  Sometime in 1811, Miles founded what may have been Upper Canada's first Sunday School., with himself as teacher, dispensing book learning to those children who showed up by choice or coercion each Sunday.  He was the founding president of a local branch of the British and Foreign Bible Society.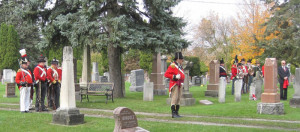 James was 36 years old when the call went out to muster the milita from all available men in the Miles' Hill area.  The militia gathered at Lot 43 East, the farm of James Fulton, and were inspected by General Isaac Brock, commander of British forces and acting Lieutenant-Governor of Upper Canada. They were formed into a company of the 1st Regiment York Militia.  Miles was named Lieutenant reporting to his brother-in-law Captain John Arnold and with his other brother-in-law John Langstaff as one of four sergeants.
During the War of 1812 the York Militia was engaged with General Brock at Fort Detroit and then Queenston Heights. As the war continued, they saw action at Fort Niagara, Chippewa, Lundy's Lane and Fort Erie.  Prior to the attack on Fort York on April 27, 1813 most of the 1st Regiment York Militia were sent home up Yonge Street to begin spring preparations for planting.  There is no report of James Miles at this action, so he had probably gone home with the rest of the men.
After the war, James built a substantial, two-storey, Georgian-style frame home for himself on the southwest corner of Yonge Street and Major Mackenzie Drive. There he lived with his aged mother, saw his sisters marry and remained a bachelor himself.
James was appointed a local magistrate and justice of the peace, performing marriage ceremonies in the absence of any ordained clergymen.  In 1817, along with Robert Marsh, they persuaded the Rev. William Jenkins to come and settle in the community and serve the communities religious needs.   In 1818, Miles, allocated five acres of his land for the Presbyterian church, the manse, the cemetery and the public school.
Called The Squire, diaries and letters by residents describe James Miles as very respectable; very good and civil and eminently fair in all his dealings, often selling his produce at or below the current market price.  He maintained a public woodlot on the northwest corner of present day Yonge Street and Arnold Crescent, where those-in-need could help themselves to a supply of firewood during the cold winter months.
Over the years he divided much of the Miles family landholdings among his siblings, nieces and nephews.
James Miles died in 1840 at the age sixty-four, after catching a violent cold while returning home from Toronto on horseback. He was buried beside his father in the Presbyterian cemetery. His property on the southwest corner of Yonge and Major Mackenzie passed into the hands of his nephew, James Playter Jr.  After his death, the allocated land for the Presbyterian church, manse, cemetery and public school were formally sold to the church for about $1,500.00 by his sister Elizabeth and John Arnold.
With James having no sons, the name Miles faded from use and the area of Miles Hill soon became known as Richmond Hill.
Veteran Summary
James Miles
Lieutenant, 1st Regiment York Millitia
Place of Birth
Brimfield, MA, USA
Place of Death
Richmond Hill, ON, CAN
Died on: 21 SEP 1840
Reason: Complications of a severe cold.
Location of Grave
Richmond Hill Presbyterian Church Cemetery, 10066 Yonge St
Richmond Hill, ON, CAN
Latitude: 43.87311N Longitude: -79.438752