James Marsh was born Mar 11, 1796, one of four children and the only son of Robert Marsh and Sarah Bridgeford, née Smith being the widow of Robert Bridgeford and mother of David Bridgeford, James' half-brother.
General Isaac Brock, commander of British forces and acting Lieutenant-Governor of Upper Canada, ordered a muster of all available men in the Miles' Hill area. The militia gathered at Lot 43 East, the farm of James Fulton, and were inspected by General Brock himself and formed into a company of the 1st Regiment York Militia, his commanding officer was John Langstaff.  At that time, when James answered the call for the militia, he was 16 years old, the youngest age eligible to join.
During the War of 1812 the York Militia was engaged with General Brock at Fort Detroit and then Queenston Heights. As the war continued, they saw action at Fort Niagara, Chippewa, Lundy's Lane and Fort Erie.  Prior to the attack on Fort York on April 27, 1813 most of the 1st Regiment York Militia were sent home up Yonge Street to begin spring preparations for planting.  James therefore was not present at this action.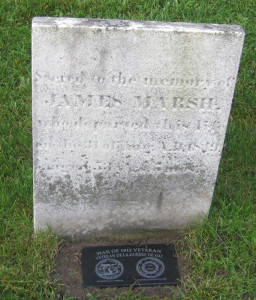 During the war, James was promoted to Sergeant and left the militia at the end of the war to go back to farming and managing his lands and those of Robert, his father.
During his life, he had 3 wives.  The first was Sarah Burr, the second was Margery Atkinson and the third was Mary McDougall.  All together James fathered 16 children.
In 1837 during the Mackenzie Rebellion of Upper Canada, James again joined the militia and was named Captain.   Later he was promoted to Major.  At this time, his son William also joined the militia.
As a sign of his deep respect, in October, 1824, Marsh went by horse to Queenston Heights for the October 13, 1824 inauguration of the first Brock monument.
In February, 1846, James Marsh was named Treasurer of Richmond Lodge, under his half-brother the Worshipful Master David Bridgeford,
James died August 31, 1849, after he fell off of his horse and died from infections from the injuries.
In the 1840's Robert Marsh, James' father built the older section of the Marsh home subsequently used as the residence of the Director of the David Dunlop Observatory. Alexander Marsh the son of James erected a later addition in 1866.
Veteran Summary
James Marsh
Captain, 1st Regiment York Millitia
Place of Birth
Richmond Hill, ON, CAN
Place of Death
Richmond Hill, ON, CAN
Died on: 11 MAR 1849
Reason: Injuries suffered through a fall from his horse.
Location of Grave
Richmond Hill Presbyterian Church Cemetery, 10066 Yonge St
Richmond Hill, ON, CAN
Latitude: 43.87314N Longitude: -79.438709