John Langstaff, one of 8 siblings, was born 1774 in Piscataway in the British New Jersey colony that would later become part of the United States.  He came to this area in 1808. He married Lucy, daughter of Abner Miles of Miles Hill later to become Richmond Hill.  Langstaff took over his father-in-law's land at the site of toll gate number 3 on the Yonge Street Highway, two side roads south of Richmond Hill.  The land was located on the northeast corner of the intersection later to become Yonge Street and Langstaff Road.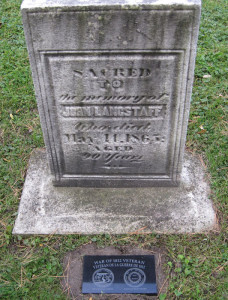 Initially, Langstaff taught in the first area school. In all, John and Lucy had 8 children.
On the call to arms for the Militia, all available men in the Miles' Hill (Richmond Hill) area, mustered at the farm of James Fulton and were inspected by General Brock himself and formed into a company of the 1st Regiment York Militia, with John being named one of four Sergeants.
John reported to his brother-in-law Lieutenant James Miles and in turn to the Captain John Arnold another brother-in-law. No records survive to indicate any promotions for Langstaff during the War.
During the War of 1812 the York Militia was engaged with General Brock at Fort Detroit and then Queenston Heights. As the war continued, they saw action at Fort Niagara, Chippewa, Lundy's Lane and Fort Erie.  Prior to the attack on Fort York on April 27, 1813 most of the 1st Regiment of York militia were sent home up Yonge Street to begin spring preparations for planting.  John therefore was not present at this action.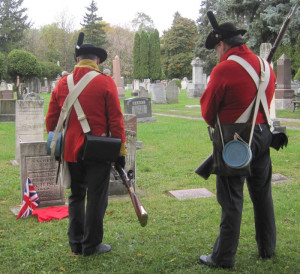 After the War of 1812, John showed himself to be a busy entrepreneur developing a number of small businesses at Langstaff Corners — i.e. several woodworking shops, a pail factory, a general store and a blacksmith shop.  On that same corner, for some years, the Langstaff family enjoyed riding around an oval half-mile racetrack.
The first post office in Langstaff Corners and surrounding area opened on the southwest corner in 1870, five years after John's death.
John's son, James Miles Langstaff was one of the earliest Ontario-born and predominantly Ontario-trained medical doctors and created a mini-dynasty of Langstaff doctors that extended into the twentieth century.
John's wife Lucy died December 12, 1844 and John passed on May 14th 1865.
Family LInks: James Marsh, James Miles, John Arnold
Veteran Summary
John Langstaff
Sergeant, 1st Regiment York Millitia
Place of Birth
New Jersey, New York, USA
Place of Death
Richmond Hill, ON, CAN
Died on: 14 MAY 1865
Reason: Unknown
Location of Grave
Richmond Hill Presbyterian Church Cemetery, 10066 Yonge St
Richmond Hill, ON, CAN
Latitude: 43.873131N Longitude: -79.438742