Research compiled by the Heritage Arts Legacy of Fort Erie
John Silverthorn was born on the 14th of September 1786 in Hardwick Township, Sussex County, New Jersey.  He was one of nine known children born to Thomas Silverthorn Jr. and Rachel Huff who settled in Stamford around 1787.  John was the grandson of Thomas Silverthorn Sr. UEL and Johanna Newman.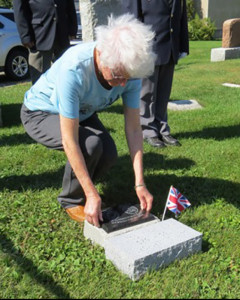 About 1807, John married Hope Tuttle, daughter of Jeremiah Tuttle and Susannah Slaght of Bertie. Hope's maternal grandparents were James Slaght UEL and Hope Howey who fled New Jersey in 1786 to settle in Stamford.
Much research has been published about John's grandfather Thomas Silverthorn Sr of Stamford, who was recognized as a Loyalist, his grandmother Johanna Newman Silverthorn, who, as a widow, acquired much acreage in Stamford then moved to Toronto township, and his uncle John Silverthorn (referenced as John the Elder) who settled on the Etobicoke Creek in Toronto township.  However, little is known about John Silverthorn (the Younger).   A Family Bible set up by John's widow Hope around 1832 for her son Isaac, born of her 2nd marriage to Michael Huffman, provided birth and death dates for her Silverthorn children, husband and some Silverthorn ancestors.  Land records offer a few clues to confirm his residence in Bertie Township.
According to Hope's family bible, she and John Silverthorn had six children:
Jeremiah
Thomas (m Elizabeth Avery, Ann Kirk)
Elizabeth (m John Huffman)
Susannah
John (m Charity Teal)
William (m Catherine Dell)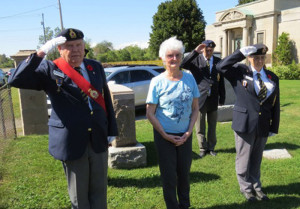 Early in their marriage, John and Hope may have lived in Stamford where John had inherited a 200 acre portion of his father's Homestead Farm.  In Bertie, John Silverthorn owned Lots 1, Concs 10 and 11 — on the NE corner of Ridge Road and Garrison Road, just across Garrison Road from his father-in-law Jeremiah Tuttle.  Land records do not show the purchase date of these properties.  However, the Silverthorns resided there at least by 1812, when John was recorded as a member of the militia detachment from the area.  In 1815 John sold a 1-acre piece of the property and in 1822, he sold 200-acres of the property. The final piece of that property was a 1-acre section of Lot 10 sold in 1833 by oldest son Thomas, his heir-at-law.  In 1817, John Silverthorn received the Crown Patent for 100 acres of Lot 181 in Stamford Township and sold this property in 1820.
Private John Silverthorn served in the 3rd Regiment Lincoln Militia during the War of 1812-14 in Major Warren's Company.  He appeared on the 1812 payroll in Capt. John Hardy's Detachment and in Capt. William Powell's Detachment in 1813 through 1814.
John Silverthorn died on the 5th February 1826 at the age of 39 years.  His burial place is unknown.  His military service in the War of 1812-1814 has been honoured in the cemetery closest to his Bertie property, Zion Cemetery in Ridgeway Ontario.
Commanding Officer: Captain William Powell
Veteran Summary
John Silverthorn
Private, 3rd Regiment Lincoln Militia
Place of Birth
Hardwick Township, Sussex County, NJ, USA
Place of Death
Bertie Township, Lincoln County, ON, CAN
Died on: 05 FEB 1826
Reason: Unknown
Location of Grave
Zion Cemetery, Garrison Road (Hwy #3)
Fort Erie (Ridgeway), ON, CAN
Latitude: 42.904164N Longitude: -79.038816