Research compiled by the Heritage Arts Legacy of Fort Erie
John Scarlett was born c1788, the eldest son of William Scarlett and Lydia, his wife.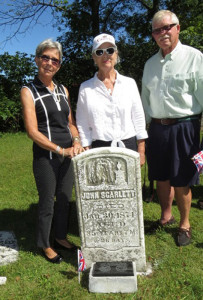 During the War of 1812-14, John served as a Private in Captain John Warren's Company, 3rd Regiment Lincoln Militia.  His father, William and brother,  Samuel served alongside him.  It is written that he fought at the battle and siege of Fort George.  There he was one of 1,931 men captured on May 27, 1813.  He was detained 24 hours and released once he had surrendered his gun and ammunition.   His military service is well-documented within the National Archives digitized War of 1812 Upper Canada Returns, Nominal Rolls and Paylists  RG 91B7 Mikan 183676, Reel T-10386.
John married Eliza Jane c. 1821.  They had seven children:
Samuel Jr. (1822)
Thomas (1825)
Mary (1828)
Jane (1829)
William Jr. (1831)
Elizabeth (1835)
Jacob (1846,  m Esther Jane Barnhardt)
In 1828 John appears on the census with his wife and  three of their children, living in the dwelling next door to his father, William.
John died January 1, 1874 at the age of 88 and was laid to rest in the Little Cemetery Around the Corner from St. John's Anglican Church, which was renamed the Coloured Cemetery in the 1980s.   His last will and testament was probated and registered against his property on 11 April 1874.
Family Link: Son of William Scarlett, Brother of Samuel Scarlett
Veteran Summary
John Scarlett
Private, 3rd Regiment Lincoln Militia
Place of Birth
Unknown, ON, CAN
Place of Death
Bertie Township, Welland County, ON, CAN
Died on: 30 JAN 1874
Reason: Unknown
Location of Grave
Coloured Cemetery/Little Cemetery (around the Corner from St. John's Anglican Church), Curtis Road
Fort Erie (Ridgemount), ON, CAN
Latitude: 42.937835N Longitude: -79.003461