Research compiled by the Heritage Arts Legacy of Fort Erie
Peter James Plato, UE was born in 1756 in Albany, New York Province, Thirteen Colonies, the son of Christian Plato, UE and his wife, Dorotea May.  During the American Revolution Peter James fought with Butler's Rangers in the Ohio Valley and for this service, received 300 acres of land in the Conc 13 of  Bertie Twp.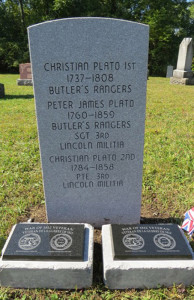 He came to this Province following the disbanding of Butler's Rangers, settling in Bertie Twp.  He met and married Gertrude Catherine Bowen, daughter of Cornelius Bowen, UE in 1790.  She was born in 1774 in the Mohawk Valley, New York Province, Thirteen Colonies and received Lord Dorchester's Bounty as the daughter of Cornelius of 200 acres of land.
They had at least five children:
Christian 1793 (m Mary Benner)
Christiana (m Christopher Woolever)
Elizabeth (m James Edsall)
Catherine (m John Edsall)
Jane (m Benjamin Laur)
Peter James' name appears on the 7 March 1808 list of names of citizens who contributed two shillings each towards a fund for relief for the poor.  Source: E.A Cruikshank  A Century of Municipal History, part 1 1792-1841 pages 39-40.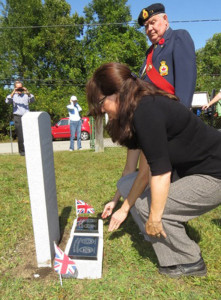 The exact date of the death of his father (Christian, UE) — who was described in the early 1800's by a local magistrate as a stubborn of German — is not known. However, he was still alive in 1804, whereas before 1810 son Peter James sold or rented his own 500 acres and moved onto his father's land, on Lots 1 and 2, Conc 4, Bertie Township. Christian UE's date of death, therefore, may have been sometime between 1804 and 1810.
Peter James served during the War of 1812-14.  By 1814 we find him as a Sergeant in the 3rd Regiment Lincoln Militia reporting to Lieutenant Colonel John Warren. It is documented that he was arrested at the fall of Fort George on 27 May 1813, and released the same day.  Peter James was also present at the Siege of Fort Erie in August 1814.  His military service is documented within the National Archives digitized War of 1812 Upper Canada Returns, Nominal Rolls and Paylists  RG 91B7 Mikan 183676,  Reel T-10386.
In his absence, the Americans raided the Plato farm.  Gertrude Catherine and her daughter-in-law and grandchildren were alone at the home in 1812, when the enemy came, taking three 3-yr-old cattle, a stallion, one 6-yr-old horse, one 3-yr-old horse, one 20-yr-old horse, one saddle and three bridles.
The Americans again returned in 1813 to burn and destroy their crops (10 acres of buckwheat, 5 acres of Indian corn, 4 acres of oats, 5 acres of wheat, 3 tons of hay).  In addition, they took two sows and their sucklings, one heifer, 1 acre of potatoes and burned the barn and two outbuildings.
After the war Peter Plato's claim for damages suffered at the hands of the enemy is listed at Archives Ontario, Claim #341 in Schedule of Claims, Class 2, Township of Bertie, District Niagara.  He claimed 4 horses, 9 hogs, saddle, bridles, grain, potatoes, hay taken by the enemy and valued them 199 pounds,  2 shillings 6 pence. Payment recommended was 114 pounds.
The 1851 Census of Upper Canada records that Peter James Plato, a widower at the age of 95 living with his son Christian, his daughter-in-law Mary (Benner) and their ten children. They were members of the Church of England.
Peter James died in 1854 and was buried in the Plato Family Cemetery, beside his wife Gertrude Catherine.
Veteran Summary
Peter James Plato
Sergeant, 3rd Regiment Lincoln Militia
Place of Birth
Albany, NY, USA
Place of Death
Bertie Township, Welland County, ON, CAN
Died on: 01 JAN 1854
Reason: Unknown
Location of Grave
Plato Cemetery, Bertie St
Fort Erie, ON, CAN
Latitude: 42.912176N Longitude: -78.956034