Research compiled by the Heritage Arts Legacy of Fort Erie
Lewis Palmer was born in 1796 in Bertie Twp., the son of John Palmer and grandson of Joseph Palmer (d 1802) who was a Sergeant in the 34th (Cumberland) Regiment of Foot for 36 years.  As a young man Lewis Palmer delivered mail along the river road between Niagara and Fort Erie.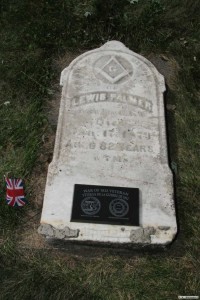 From 1812 to 1814 he served as a Private in the Provincial Dragoons, under Captain John Hardy (1813)   He was taken prisoner at the Battle of Lundy's Lane.  Afterwards he was made a Captain in the 3rd Regiment Lincoln Militia.  Military service is documented within the National Archives digitized War of 1812 Upper Canada Returns, Nominal Rolls and Paylists –  RG 91B7 Mikan 183676, Reel 10386.
In 1817, at the age of 20, Lewis became a Mason.  By 1820 he had married Catherine  Woolever, daughter of Peter Woolever, Sr., who was born in 1803.  They had seven children:
Adeline (1821)
Ellen (1824)
Mary Ann (1827)
Catherine (1831)
John Lewis (1836)
William Nelson (1839)
Leah Leticia (1841)
The children were all baptized together on August 26, 1838 by Reverend John Anderson of St. Paul's Anglican Church, Fort Erie.
Lewis was Chairman of the Board of Assessors for Bertie Township.  He was a member of the Church of England and in 1871 his occupation is listed as a Farmer.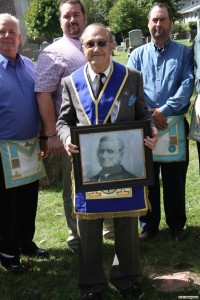 In 1876 the Dominion Government of Canada presented each of the surviving veterans of the War of 1812-14 a payment of $20 as a slight recognition of their service in the British cause.  Lewis Palmer was one of the recipients of this money.
In early January, 1879 when Lewis Palmer was gravely ill at the Garrison Road home of his daughter, Mrs. John Rooth, it was decided he should be recognized for the 62 years of dedicated service to the Masonic Order by establishing a lodge in his name.  Unfortunately he passed to the  Grand Lodge above without being able to attend the first meeting there.
Lewis Palmer died 17 January 1879.  His death registration with the Province of Ontario proudly lists his occupation as "Veteran of the War of 1812 to 15".  He was buried in the churchyard at St. Paul's Anglican Church in Fort Erie.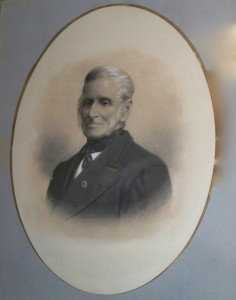 Veteran Summary
Lewis Palmer
Private, 3rd Regiment Lincoln Militia
Place of Birth
Bertie Twp., Lincoln County, ON, CAN
Place of Death
Bertie Township, Welland County, ON, CAN
Died on: 17 JAN 1879
Reason: General Disability
Location of Grave
St. Paul's Anglican Church Cemetery, Idylewylde St
Fort Erie, ON, CAN
Latitude: 42.919816N Longitude: -78.91341