Research compiled by the Heritage Arts Legacy of Fort Erie
John Moore was born October 8, 1791 in Parsborough, King's County, Nova Scotia.  He married Elizabeth Foreman or Freeman, who was born July 6, 1800 at Amhurst, Cumberland County, Nova Scotia.  They married in the Gore  District on June 256, 1818.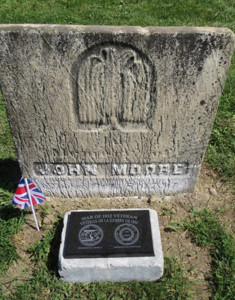 During the War of 1812-14 John Moore served as a Private in Major Henry Warren's Company 3rd Regiment Lincoln Militia.  His military service is well documented within the National Archives digitized War of 1812 Upper Canada Returns, Nominal  Rolls and Paylists RG91B7, Mikan 183676, Reel T-10386.
John Moore was granted land for his service during the war and his file for his application can be found in The Land Claim Certificates RG9 1B4, Volumes 18 to 25, pages 601-603.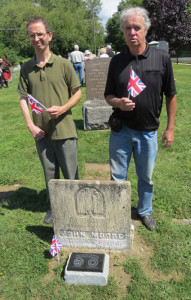 In the 1852 Census for Bertie Twp., we find John and his wife Elizabeth living with son James Moore, aged 22, Eliza Moore, aged 18 and Ezra Moore aged 14.  They are Wesleyan Methodists and John is listed as a farmer.
Elizabeth died June 4, 1862 and was buried in Ridgeway Old Cemetery.   John died October 13, 1870 and was buried  beside her.
Veteran Summary
John Moore
Private, 3rd Regiment Lincoln Militia
Place of Birth
Parsborough, King's County, NS, CAN
Place of Death
Bertie Township, Welland County, ON, CAN
Died on: 13 OCT 1870
Reason: Unknown
Location of Grave
Ridgeway Old Memorial Cemetery, South Mill Street
Fort Erie (Ridgemount), ON, CAN
Latitude: 42.877452N Longitude: -79.054392