Research compiled by the Heritage Arts Legacy of Fort Erie
The early life of young Andrew Miller, who was born in October 1766, is a mystery.  One family tree states that Andrew was born in Ulster Township,Pennsylvania, another tree suggests that Andrew was born in Ulster County, New York. However, the Miller family has come to the conclusion that Andrew was born in the Colony of Pennsylvania based on the theory that is mentioned later in this biography.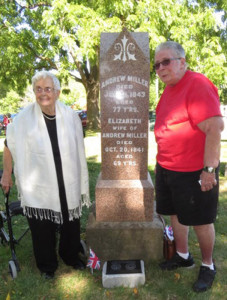 At about the age of 12, Andrew, his family and an uncle were enroute through the Colony of New York possibly heading to Upper Canada when they were attacked by a party of renegade Indians. The parents and an uncle were killed, and Andrew was taken prisoner.  There is an unverified possibility from a family member that Andrew had a brother named Peter, but no record has been found.
The Indians were starving, their crops had been destroyed by the armies. They took Andrew to Fort Niagara where John Burch, who was a Subtler, a supplier of goods to the English Military there, ransomed him for a sack of flour (some say corn). Burch took Andrew under his wing.
Burch met and befriended Martha Ramsay who had fled the 11 November 1778 Cherry Valley massacre with her father, James Ramsay, sister Jenny and two brothers and had made their way to Upper Canada, and to Fort Niagara.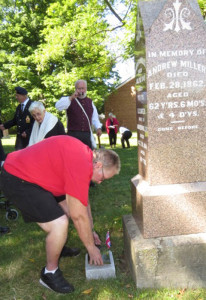 John and Martha married at Fort Niagara c 1782 and their son John was born c 1783.  It is assumed that Andrew continued to live with John and Martha after their marriage since he was still a teenager.  It is not known if Andrew remembered his surname or if Burch gave him one.
We do know that Burch built the first grist mill on the banks of the Chippewa Creek in 1786.  It has been recorded that Andrew was known as the "Mill Boy" so possibly that is where the surname Miller came from.
In 1790, Andrew married Elizabeth Everett, reportedly the daughter of a U.E.L. Loyalist, in Burch's home.
Andrew and Elizabeth's had ten children:
first child, a girl, they named Martha (1791-1793) after John Burch's wife
the second, a son, whom they named John Burch Miller (1792-1853) in gratitude to Andrew's benefactor
Peter Edward (1793-1853) possibly named for Andrew's brother Henry (1795-1796)
Elizabeth (1798-1809)
Andrew (1799-1862)
Benjamin (1803-1888)
Jacob (1805-1891)
Edward (1806-1870)
Malinda (1811-1863)
Eliza (1814-1883)
To support Andrew Miller's claim for land, John Burch's affidavit, to his Excellency John Graves Simcoe, Esquire, Lieutenant Governor, and commander in Chief of the Province of Upper Canada, for a Land Grant, reads as follows:
"This is to Certify That the Bearer Andrew Miller came into this Province some Time in year 1778 or 1779 & Livend Under my care to the year 1790 being then Married in my House, removed to take Up a farm for himself, his father's family were Good Loyalists but was Unfortunately Kild as Was his Uncle by a small Scout of Indian that were unknown to them. The Boy has ever shewn the Strongest Attachment to the British Government wile with me and since, & refused to stay with family Connections in Ulster County when Mrs. Burch took him out to see Them In the year 1785."

Signed John Burch.

(Upper Canada Land Petitions LAC Bundle 2, Petition Number 149c)
The Miller family believes that Andrew's family originated in Pennsylvania, and that they stopped off in New York State for a visit with family members. A story exists that young Andrew refused to remain in Ulster County after Martha Burch took him with her to visit the area, presumably to check on her husband's former holdings there, possibly because he was still traumatized by his family being massacred.
It appears from the Land Records, Andrew received 130 acres in 1796 in Dorchester (early Niagara Falls, Ont.), Upper Canada.
In 1791 Andrew took up land on the frontier of Lincoln County, Upper Canada, along the Niagara River about five miles north of Fort Erie at the end of an old Indian Trail leading back through the woods to Ridgeway and Port Colborne, Ont.  He did not receive a deed for this land until the year 1801. Later he took up other lands from the Crown in different parts of the Province. It is believed that the first town meeting of which any record exists was held here on March 7, 1808.
The advanced guard of Sir Gordon Drummond's army was posted at his home on the 23rd of  September 1814, being an important road junction.  Andrew Miller was a town warden from 1818  1820 and in 1827.
In June 1809 he was commissioned an Ensign in the 3rd Regiment Lincoln Militia in the District of Niagara, commanded by Lieutenant John Warren.
In the Book of Many Voices II published by the Ridgeway, Ont. Museum there is an 1814 sketch map on p. 243 which clearly shows the "Andrew Miller's Squadron" at the site of his tavern.
In 1821 Andrew claimed damages to his property caused by the enemy. Two houses were damaged and fence rails were burnt for which he received 149 pounds.
Andrew was also one of the original people who helped purchase the land for St. Paul's Anglican Church, and was made a Trustee for it. Since he lived a long life he would have been well known in the area. In 1821 the deed for the land for the Church was signed by Andrew and several others with Rev. Addison as the first missionary to the district.
Andrew and Elizabeth Miller were buried under a tree on the property as was the custom in those days. Both funerals were conducted by Rev. Anderson. A ship building company later acquired the land and the graves of Andrew and Elizabeth were eventually transferred to the cemetery at St. John's Anglican Church, Ridgemount Road, Fort Erie, Bertie Township, Welland County, Ont.
There were various Miller families in Bertie, some English, some German origin at that period of time. They were known as the Country Millers and the River Millers. A DNA test was performed on a male descendant of Andrew Miller, which proved that Andrew's origin was English.
Veteran Summary
Andrew Miller
Ensign, 3rd Regiment Lincoln Militia
Place of Birth
Unknown, PA, USA
Place of Death
Bertie Township, Lincoln County, ON, CAN
Died on: 30 JAN 1843
Reason: Unknown
Location of Grave
St. John's Cemetery, Ridgemount Road
Fort Erie (Ridgemount), ON, CAN
Latitude: 42.936671N Longitude: -79.004653