Research compiled by the Heritage Arts Legacy of Fort Erie
In older records, there is much confusion between the surnames Johnson, Johnston and Jansen.
Conrad Jansen was the son of Jehoiakim Jansen; grandson of Coenraad Jansen, UE and Mary his wife.  Conrad was born in Bertie Twp. in 1796 likely a few hundred yards from his resting place.  Following the deaths of his grandfather and father, he inherited the lands just west of the Zion Cemetery.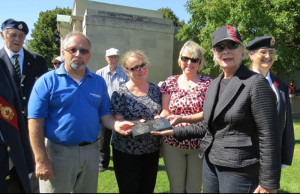 His grandfather and namesake, willed Conrad Lots 1 and 2, Concession 8, Bertie  Twp. and this is where he farmed until his death.
He married Charity c 1818 and they had 8 children, as follows:
Eliza Jane (m Daniel Bearss)
Jekoiakim
Sarah  Ann (m Henry Harris)
Catharine (m John Phillips)
John N. (m Sarah)
Elizabeth
James
Nancy Lavinia (m Benjamin Franklin Plato)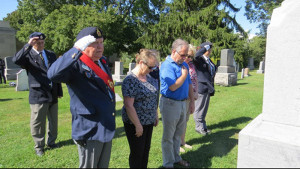 During the War of 1812-14, Conrad like many of his neighbours served in the Captain William Powell's 3rd Regiment Lincoln Militia.  His military service is documented within the National Archives digitized War of 1812 Upper Canada Returns, Nominal Rolls and Paylists –  RG 91B7 Mikan 183676 and reveals he was in active service through 1812, 1813 & 1814.
He died March 28, 1870 of hydroparacardium at his farm in Bertie Twp.  He was buried in Zion Cemetery.  His widow, Charity, died September 10, 1877 and was buried by his side.
Veteran Summary
Conrad Jansen
Private, 3rd Regiment Lincoln Militia
Place of Birth
Bertie Twp., Lincoln County, ON, CAN
Place of Death
Bertie Township, Welland County, ON, CAN
Died on: 28 MAR 1870
Reason: Hydro paracardium
Location of Grave
Zion Cemetery, Garrison Road (Hwy #3)
Fort Erie (Ridgeway), ON, CAN
Latitude: 42.904109N Longitude: -79.038806