Research compiled by the Heritage Arts Legacy of Fort Erie
Lewis House was born 16 July 1788 in Lincoln Co., Upper Canada, although in research it is also noted that he may have been born in the Mohawk Valley, New York State.  He was the son of George House and Maria Polly Mabie.  George House served with his brother, Harmonus House in Captain Walter Butler's Company, Butler's Rangers.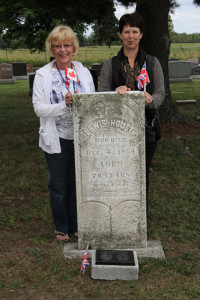 In March 1779, Maria Polly (Mabie) House and her children were taken prisoner by the rebels, but by 1783 the family is reunited with George and safely in Niagara.
In July 1797, George received a land grant at Long Point, but it is not known if the family ever lived there.  In 1802 he received a patent of 200 acres in Lots 15 and 126 on the Niagara River, Willoughby Twp.  It was located one chair (66 ft) from the river extending from southeast of Black Creek to the boundary with Bertie Twp.  It is here that Lewis and his siblings lived until they left home.
Lewis received his Order in Council on December 2, 1806 for Lord Dorchester's Bounty of 200 acres as the son of Loyalist George House.
Lewis served as a Private in the 3rd  Regiment Lincoln Militia during the War of 1812-1814.  From March to September 1814 he was serving under Captain John Hardy's Company, as found on pages 321 and 356 of RG9 1B7, Volume 23, War of 1812:  Upper Canada Returns, Nominal Rolls and Paylists, 3rd Regiment Lincoln Militia – Officers and Staff,  Company D on the Collections Canada website.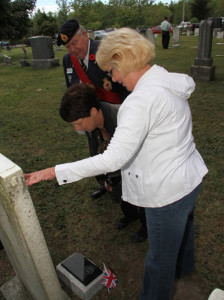 During the war of 1812 many citizens suffered damages to their property at the hands of the enemy.  Lewis House was one of the claimants.  He claimed 134 pounds, 12 shillings, 6 pence pounds lost to the enemy and 9 pounds and 5 shillings loss at hands of British.  No award was made.
In 1816, Lewis House married Mary Price and had a family of six all born in  Willoughby Twp.:
Joseph P.
Nelson William
Georgina
William
Mary
Lavinia Jane
Lewis and Mary are found in the 1852 Census in Willoughby Twp., where Lewis is listed as a Farmer.  In 1861, Lewis and Mary are living with their son William in Willoughby Twp.  All occupants of the house at that time are listed as United Brethren religion.
Lewis House died on December 4, 1864 and was laid to rest in McAffee  Cemetery.  He was 76 years, 4 months and 19 days old.
Veteran Summary
Lewis House
Private, 3rd Regiment Lincoln Militia
Place of Birth
Lincoln County, ON, CAN
Place of Death
Willoughby Township, Welland County, ON, CAN
Died on: 04 DEC 1864
Reason: Unknown
Location of Grave
McAffee Cemetery, Thompson Road
Fort Erie, ON, CAN
Latitude: 42.946981N Longitude: -78.944932