Jacob Hoffman Jr. (Huffman) was born in Bertie Twp. in 1790, the first son of Jacob Hoffman (Huffman) UE (Private in Col. Edward Jessop's Corp.) and Anna Ransier, DUE (daughter of Andres Ransier, Private Butler's Rangers and his wife Agnes).  He grew up on his father's farm on the north side of Bertie Road, straddling Ridge Road North, known as Lots 3, Conc 9, 10 and 11th of Bertie.  Jacob applied for Lord Dorchester's Bounty when he attained the age of 21 years, in 1811, however the Order-In-Council was not issued until 1833.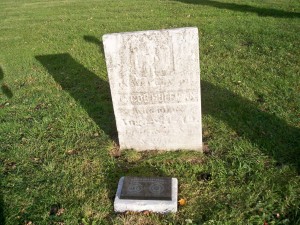 When the War of 1812 began, Jacob enlisted and served in the  Flank Company 3rd Regiment Lincoln Militia, commanded by Lieutenant William Powell from June to December 1812.  In 1817, he applied for his 100 acre grant for this service and it is noted he is living in Yarmouth Twp., Elgin County.
Jacob married a lady named Huldah c1830 and their first three children were born in Bayham Twp. which may be where Huldah family lived since she eventually moved back there after she was widowed and is buried in Calton Cemetery, Bayham Twp.  At some point prior to 1835, Jacob moved his family back to Bertie Twp.  It may be his father was failing at this point and when Jacob, Sr. died the 22nd March, 1837, Jacob Jr. took over the family farm.  Three more children were born to them in Bertie.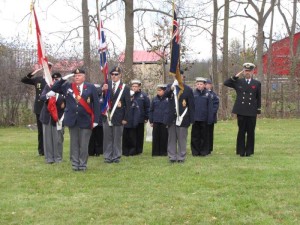 Jacob was a farmer and may have been involved in his cousin, George Huffman's, smuggling business.  At some point Jacob purchased a property on the railway line in the  south end of Stevensville where he operated the Huffman House, an inn and tavern.  This business was taken over and run by his eldest son, John Franklin Huffman.
Jacob died at the age of 54 on the 28th of  August, 1849 and is buried in the Little Cemetery Around the Corner from St. John's Anglican in Ridgemount.  His Last Will and Testament was probated in September 1849.
Jacob & Huldah's children were:
John Franklin (m Sarah Clarke)
George Henry (m Jane Watson)
Catharine (m Jacob VanVelzer)
Nancy Harriet (m Edmund Benner)
Edmund
Mary Anne
Veteran Summary
Jacob Hoffman (Huffman) Jr.
Private, 3rd Regiment Lincoln Militia
Place of Birth
Bertie Twp., Lincoln County, ON, CAN
Place of Death
Bertie Township, Welland County, ON, CAN
Died on: 28 AUG 1849
Reason: Unknown
Location of Grave
Coloured Cemetery/Little Cemetery (around the Corner from St. John's Anglican Church), Curtis Road
Fort Erie (Ridgemount), ON, CAN
Latitude: 42.937802N Longitude: -79.003469