George Hoffman (Huffman) was born February 18, 1795 in Bertie Twp., Lincoln Co., Upper Canada, one of at least six children born to Michael Hoffman (Huffman) and Elizabeth Ransier.  Michael had come to this Province in 1786 with his father, mother and sisters following the American Revolution.  Michael's older brothers, Jacob and Nicholas, were both Privates in Col. Edward Jessop's Corps and Col. Butler's Rangers, respectively.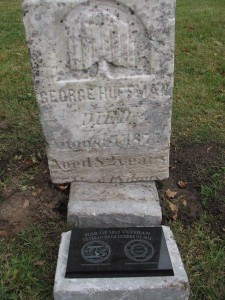 Michael's wife, Elizabeth Ransier (Rancier/Ransear) was the daughter of Andres (Andrew) Ransier who was a Private in Col. Butler's Rangers, and who resided  briefly (died in 1789) in the Clinton/Gainsborough Twp. area of Lincoln County.
At the age of 17, George enlisted as a Private in the Flank Company 3rd Regiment Lincoln Militia  commanded by Colonel John Warren, between July 1 and December 24, 1812.  He was awarded 100 acres of land for his service.
Following the War, George settled in the Grimsby area where he met and married Hannah Marcellis (Marsales), the daughter of Peter Marcellis, a Private in Col. Butler's Rangers, who was born February 15, 1792 in Clinton Twp., Lincoln County, Upper Canada.
Hannah was baptized by Rev. Robert Addison at St. Mark's, Niagara-on-the-Lake on February 2, 1793.  In the Municipal Records for Grimsby Twp. 1790 To 1840, George is listed in the Minutes for the 1822 Meeting as a Road Overseer and is listed as living on Lot S, Gore of Grimsby, which is on top of the escarpment overlooking the Town of Grimsby.  His name does not appear again in any of these records.  It is uncertain when George brought his family back to Bertie or why he chose to do so, but we do find evidence of his presence in Bertie Twp. as early as 1827.
George and Hannah had at least four children:
Michael (m Mary Johnston)
Hannah (m Charles Anger)
George Franklin (m Mary Ann Anger)
Peter (m Susan Jane Anger)
George purchased a one acre parcel on the northwest side of Ridge Road N and Garrison Road (Lot 1, Conc 1) where he operated a the Huffman Tavern which was also known as The Smuggler's Home.
He also purchased a parcel of land on Burleigh Road north of Nigh Road, Part Lot 21, Conc. 3 where he erected a house, barn and other buildings.  Although George sold this property in 1864, his grandson James Richard Huffman was quick to purchase it in 1891.  One of James Richard's granddaughters told about playing in the barn which had numerous secret walls or doors that would open into hidden spaces, one of which concealing a tunnel which ran a long distance to the woodlot at the west of the property.  One day she found the tunnel, following it to the woods and when she came back through, she was caught by her uncle, Edgar Huffman.  The next time she came to visit, she could not access the tunnel as the opening had been nailed shut.
In the spring of 1833 George and Charles Anger were at the Waterloo Ferry and got into an argument.  The argument got heated, George drew and knife and in the ensuing scuffle a man who tried to intervene got cut on the wrist.  George and Charles Anger were arrested, but George managed to escape.  The warrant stated George had run to the Forty Mile Creek area, where he had family.  He was arrested, charged with assault and battery, and was held until his trial at Niagara in June of that year.  He was tried and found not guilty by 5/6 jurors.   Col. James Kerby was one of the witnesses for the Crown.
Elderly family members from his son's (George Franklin Huffman) line have shared stories that were passed down about George, Sr. who was known as Big Forty.  He has been described as a large man who had to duck to come through the doorway of his log home and whose shoulders were broad enough he had to turn slightly to come through the narrow doorway.  He was purported to have owned a team of horses that could outrun customs officials on both sides of the border.  He traded in the commodities of salt, kerosene and whiskey, often accepting shipments on the lakefront at the end of Burleigh Road in the middle of the night.  He would light a lantern and place it on the beach so men in boats with his shipment could bring it to him on shore.  Neighbours on Burleigh Road apparently commented on being wakened and frightened by the sound his horses pounding at full gallop in the middle of the night.  George was also highly involved in the underground railway, bringing many blacks to Canada which could be the reason for the rooms and tunnels in the barn on Burleigh Road.
There was another story about a pig sty that had a structure in the centre of the muck and pigs where commodities were stored for safe-keeping.  The whereabouts of the pig sty has not been confirmed.
Hannah died in 1864 at the age of 72.  She was buried in the Little Cemetery Around the Corner from St. John's at Ridgemount, which was renamed the Coloured Cemetery in the 1980s.
George's son, Michael took over the Huffman Tavern (Smuggler's Home) around 1850, but sold the Tavern just prior to his death on July 19, 1873 at the age of 53.  George's sons, George Franklin and Peter Huffman were also tavern/innkeepers and owned the Victoria Hotel in Ridgeway and the Huffman House on the Boulevard in Fort Erie respectively.  Daughter Hannah & husband Charles Anger moved to Flynn Twp., Michigan.
On the 1871 census, George is listed living with his nephew, John Franklin Huffman.  John built the stone house that stands today on the Huffman property. George & Hannah's home was incorporated into the kitchen of that home (the wing to the right) since a – renovation revealed a log structure wrapped in stone.
In 1876, the Dominion of Canada paid a pension to all surviving veterans of the War of 1812-14.  The list includes George's name and his residence of Stevensville.   He died of heart issues associated with old age on 5 August 1877 and was laid to rest beside Hannah.  His obituary mentions his service in the War of 1812.
Veteran Summary
George Hoffman (Huffman)
Private, 3rd Regiment Lincoln Militia
Place of Birth
Bertie Township, Welland County, ON, CAN
Place of Death
Bertie Township, Welland County, ON, CAN
Died on: 05 AUG 1877
Reason: Old Age
Location of Grave
Coloured Cemetery/Little Cemetery (around the Corner from St. John's Anglican Church), Curtis Road
Fort Erie (Ridgemount), ON, CAN
Latitude: 42.937802N Longitude: -79.003469