Jacob Hoffman was the son of Nicholas Hoffman and his wife Abigail.  Jacob was born somewhere  in the Thirteen Colonies in 1759.  When hostilities broke out, he joined Colonel Edward Jessop's Corps of Rangers, while his brother Nicholas Jr., joined Butler's Rangers.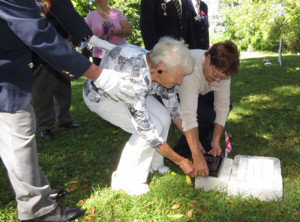 At the end of the war, Jessop's Corps disbanded in the Bay of Quinte and Jacob made his way to Niagara to join his brothers, Nicholas and Michael, sisters Mary (m Henry Near) and Elizabeth (m Michael Beach) and his parents.  Jacob met Anna (m Nancy) Ransier, the daughter of Andres  Ransier, a Private in Butler's Rangers and they married c1786 in Niagara.  They had ten children(not in order):
Rebecca (m Winslow Hayward)
Abigail (m Michael Beach)
Jacob Jr. (m Huldah)
Ann (m Reuben Lamb)
Catharine (m Johnston)
William (m Elizabeth Rickert)
Mary
Nicholas (d.y.)
Elizabeth (m David Adams)
Margaret
Sarah (m Michael Buck)
George (m Hannah Johnson)
Jacob drew Lot 3, Conc 10 & 11, Bertie Twp. for his service.  He produced a certificate signed by Major Peter Van Alstine proving his service as a Private in Colonel  Edward Jessop's Corps of Rangers.  He farmed on this property until his death in 1837.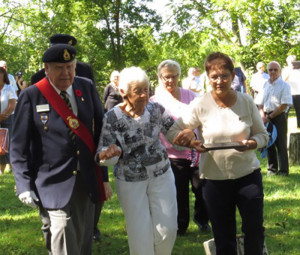 Although Jacob was 54 when the War of 1812-1814 broke out, he did serve in Captain William Powell's Company, in the 3rd Regiment Lincoln Militia over the course of the war.  His military service is documented within the National Archives digitized War of 1812 Upper Canada Returns, Nominal Rolls and Paylists  RG 91B7 Mikan 183676, Reel T10386.
During the war of 1812 many citizens suffered damages to their property at the hands of the enemy.  After the war, citizens submitted their claims to the government and these can be found in the 1812-1814 Property Damage Claims, Bertie Township at the Archives Ontario.  Jacob Huffman was one of the claimants.  His claim No. 358 stated he had horses and a wagon taken by the enemy, claiming 87£ for the loss.  He was recommended for 50£ in settlement of this claim.
As with many unfortunate Loyalists, Jacob found himself expunged by the Executive Council on the belief that he was a German Soldier and not a Loyalist.  This happened upon the application of his daughter Catharine Johnston in 1822.  Jacob was able to prove himself to Council and was reinstated so the rest of his children could receive Lord Dorchester's Bounty of 200 acres.
Jacob died 22 March 1837 and his death is recorded in the records for St. Paul's Anglican Church, Fort Erie, with Reverend John Anderson from St. Paul's presiding over the burial.  He was laid to rest a couple of miles northeast of his farm, in the pioneer burial ground around the corner from what became St. John's Anglican Church (1840) in Ridgemount which was renamed the Coloured Cemetery in the 1980s.  Ann died after Jacob, but there is no record of her burial.
Veteran Summary
Jacob Hoffman
Private, 3rd Regiment Lincoln Militia
Place of Birth
Unknown, ON, CAN
Place of Death
Bertie Township, Lincoln County, ON, CAN
Died on: 22 MAR 1837
Reason: Unknown
Location of Grave
Coloured Cemetery/Little Cemetery (around the Corner from St. John's Anglican Church), Curtis Road
Fort Erie (Ridgemount), ON, CAN
Latitude: 42.937823N Longitude: -79.003611