According to a land transaction in 1811, Michael Hoffman (Huffman) states he was born in 1763 in the "State of Virginy", the son of Nicholas and Abigail Hoffman or Hofman.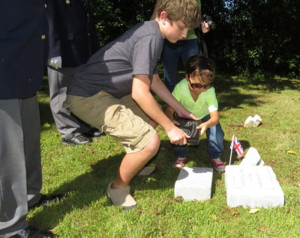 At some point the family moved to New York Province as are recorded participating in baptisms in Claverack.  When the American Revolution broke out, two of Michael's older brothers, Nicholas Jr. and Jacob joined Butler's Rangers and Colonel Edward Jessop's Corps of Rangers, respectively.  Michael's elder sister Mary had married Heinrich Neher (Henry) Near who was also a Private in Butler's Rangers.  Nicholas Sr., Abigail, Michael, Elizabeth (Michael Beach) and Mary with her young children all arrived in Niagara in 1786.
Michael met and married Elizabeth Ransier, b 1774 in Schoharie, New York Province, the daughter of Butler's Ranger, Andres Ransier, UE and his wife Agnes in 1787.
their first child, Ann (m Captain Robert Runchey) was born in 1788
followed by George  (m Hannah Marcellis)
Mary (m George Benner)
John (m Catherine Shufelt; Elizabeth Silverthorn)
Michael Jr. (deaf mute)
Margaret (m Jacob Jansen)
Nicholas Sr. was granted Lot 4, Conc 10 & 11 in Bertie Twp.  He died around 1811 and his property passed to Michael.  Michael also owned Lot 5, Conc 11 & Pt Lot 21, Conc 3 Lake Erie in Bertie Twp.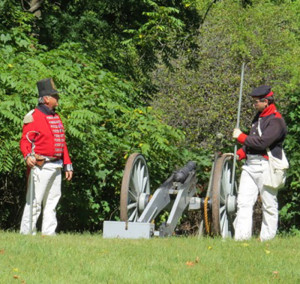 There reached a point by 1813 where a call was put out for men between the ages of 40 and 60 to help with war effort.  Michael Huffman, who had just turned 50, answered that call and served as a Private in Captain William Powell's Company 3rd Regiment Lincoln Militia.  His military service is documented within the National Archives digitized War of 1812 Upper Canada Returns, Nominal Rolls and Paylists  RG 91B7 Mikan 183676, Reel T10386.
During the war, many citizens suffered damages to their property at the hands of the enemy.  After the war, citizens submitted their claims to the government and these can be found in the 1812-14 Property Damage Claims, Bertie Township at the Archives Ontario.   Michael Hufman was one of the claimants under Claim No. 360, he states he lost horses and grain taken by the enemy.  He claimed 68£ and was recommended for 40£.
When Elizabeth died in 1828, she was buried in the pioneer cemetery two mile northeast from the family farm in what became the Little Cemetery Around the Corner from St. John's Anglican Church (built 1840).  This cemetery was renamed Coloured Cemetery in the 1980s.
Michael remarried Hopey Tuttle who was the widow of John Silverthorn in 1830.  By 1832 Hopey had given birth to their son, Isaac.  Michael died June 23, 1835 and was buried beside Elizabeth.  His Last Will and Testament was probated and on March 11, 1836, it was registered against his home farm.
Family Links: He was the father of George Hoffman
Veteran Summary
Michael Hoffman
Private, 3rd Regiment Lincoln Militia
Place of Birth
Unknown, VA, USA
Place of Death
Bertie Township, Lincoln County, ON, CAN
Died on: 23 JUN 1835
Reason: Unknown
Location of Grave
Coloured Cemetery/Little Cemetery (around the Corner from St. John's Anglican Church), Curtis Road
Fort Erie (Ridgemount), ON, CAN
Latitude: 42.937823N Longitude: -79.003611