Research compiled by the Heritage Arts Legacy of Fort Erie
Charles Hibbard was born c1777 in Pennsylvania, USA.     Some records researched have shown his parents as Charles Hibbard and Lucy Emerson, this fact however cannot be substantiated with source documents.     He married Elizabeth Buck UE on 15 May 1805, in Fort Erie, Ontario. (Source: The Ontario Register, 1780s to 1870s )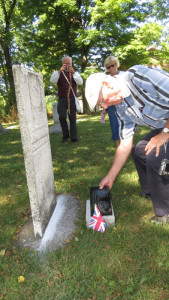 Elizabeth was the daughter of Philip Buck UE of Bertie Township.
Bertie Township's earliest township meeting took place at Andrew Miller's tavern on 7 March 1807 and Charles Hibbard was one of the participants along with other notable early settlers to the Township. Charles was also appointed as Bertie Township Clerk 1816/17  (Source: Many Voices published and compiled by the Fort Erie Historical Museum).
Charles Hibbard's name appears on the March 7th, 1808 list of names of citizens who contributed two shilling each towards a fund for relief for the poor. (Source: A Century of Municipal History, part 1, 1792-1841 pages 39-40 by EA Cruikshank).
During the War of 1812, Charles Hibbard served in the 3rd Regiment Lincoln Militia.  We find him from February to May 1814 in Captain William Powell's Company.  His military service is documented within the National Archives digitized War of 1812 Upper Canada Returns, Nominal Rolls and Paylists  RG 91B7 Mikan 183676.
After the war many Bertie Township residents filed claims for compensation for property damages  caused by the enemy.   Charles Hibbard's claim for damages suffered at the hands of the enemy is listed at Archives Ontario, Claim #359 in Schedule of Claims, Class 2, Township of Bertie, District Niagara.  He claimed a horse taken by the enemy and valued the horse at 30£. An affidavit certified by Andrew Miller was attached to his claim.  Payment recommended was 25£.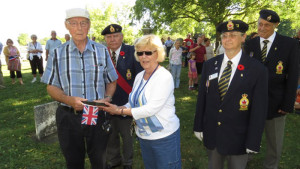 In 1828, Charles was found living in Bertie Township with three males under the age of 16, one male over 16, one female over 16 with a total of six in the Hibbard household.  (Source: 1828 Bertie Township census).
There is evidence from the research for this biography that there were other children born after 1828 but little is known of his family.
In later years Charles and Elizabeth Hibbard became more critical to history when they took in a family of escaped slaves.
The father of this family was the Rev. Josiah Henson. The Hibbards paid for the children's education and helped the family settle in the area. Josiah worked on the tenant farm owned by the Hibbards.   Later Josiah wrote his autobiography, which was made into a novel Uncle Tom's Cabin (source: The Life of Josiah Henson, Formerly a Slave, Now an Inhabitant of Canada, as narrated by himself found online)
Charles died not too many years later at the age of 67 on September 7, 1844 and was buried in St. John's Cemetery, attached to St. John's Anglican Church in Ridgemount, Ontario.  His probated Last Will and Testament was registered on his property October 4, 1844.
Veteran Summary
Charles Hibbard
Private, 3rd Regiment Lincoln Militia
Place of Birth
Unknown, PA, USA
Place of Death
Bertie Township, Lincoln County, ON, CAN
Died on: 07 SEP 1844
Reason: Unknown
Location of Grave
St. John's Cemetery, Ridgemount Road
Fort Erie (Ridgemount), ON, CAN
Latitude: 42.936671N Longitude: -79.004653