Research compiled by the Heritage Arts Legacy of Fort Erie
William Forsyth(e) was born in 1771 in Tryon County, New York Province in the Thirteen Colonies.  He was the son of United Empire Loyalist, James Forsyth and his wife, Eunice who settled in Niagara Falls.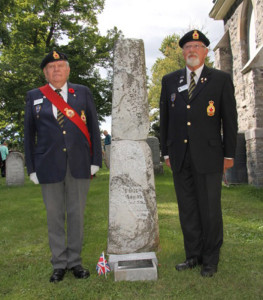 William acquired a farm in close proximity to the Horseshoe Falls.  In 1795 he married Mary Ackler and ten children were born before she died.  William remarried Jane ? and nine more children were born.  The children are set out not necessarily in birth order:
William Jr. (m Rebecca Moffatt)
Nelson (m Archange Warren)
Collingwood (m Elizabeth Dalsby)
Sophronia (m Thomas Davidson)
Samuel (m Sarah Defield)
Betsy (m John Green)
Melissa (m James Hurst)
Isaac Brock (m Sarah Misener)
Rodney (d age 14)
Wellington (d age 8)
Phebe
Matilda (m Cornelius Van Wyck)
Elizabeth (m John Adams)
Hiram (m Jane Oswald)
Jane (d 1823 infant)
and a son (stillborn 1828)
It is not known which children are from which wife.
William served as a gunner and spy in the 2nd Regiment Lincoln Militia.  In response to his Claim for Losses in 1824, Thomas Clark, a commanding officer of Forsyth's unit described Forsyth as "man of uncouth behavior," remembering he had "given displeasure and trouble to Officers by leaving his duty and going home at nights."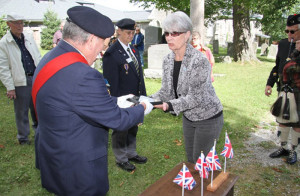 However he also mentioned that Forsyth had behaved "very well in harassing the enemy before taking prisoners" at the battle of Beaver Dams in 1813.  In 1814, Major-General Louis de Watteville used Forsyth as a spy "to go across the river" but report says that he "took over a much is not more than he brought back." His military service is documented within the National Archives digitized War of 1812 Upper Canada Returns, Nominal Rolls and Paylists  RG 91B7 Mikan 183676.
His farm and home were plundered and damaged by both American forces and Indians on numerous occasions during the conflict.  Forsyth's claim for losses was for more that 425£ and initially rejected, however he eventually received 90£ in 1824.
A very detailed biography for William Forsyth is available at Dictionary of Canadian Biography, if you search for William Forsyth (1771-1841).   William used his extensive knowledge of the Falls and the Niagara River to run a lucrative smuggling business.  He operated a stage coach between Queenston and Fort Erie and at some point had ferry rights at the base of the Falls.
In April 1817, Forsyth built an inn on his property and then purchased the adjoining farm from William Dickson which helped him to monopolize the best view of the Falls at Table Rock, and by 1822 had built the Pavilion Hotel which was the most splendid accommodation of it's time, accommodating 150 guests. He sought to monopolize the tourist trade by enclosing a chain reserve owned by the government with a high wooden fence, thus shutting off the view of the Falls, excluding the public's free access.
In May 1827, Forsyth was petitioned to remove said fence, which he refused to do.  The Commander of the military forces employed troops to level it but immediately he had it rebuilt.  The military came the following month and once again removed the fence, but in the process Forsyth's blacksmith shop was heaved over the embankment into the river and 60 acres of crops were destroyed.  Although Forsyth lodged a complaint on both counts, he lost to the government and ended up selling the property to Thomas Clark, William Allan and Samuel Street in 1832.  Years of litigation had ensued around the hotel, the loss of the frontage he had occupied, ferry rights and his monopolization of the tourist trade and Forsyth was beaten on every claim.
William moved his wife and family to Bertie Twp. and began to construct a large brick and stone house just below Waterloo Ferry.  On the 26 April 1833 he got permission to quarry stone on the line between the Ferry and the old Fort.  When completed, this new home was called Bertie Hall after Lord Bertie, the King's representative of the Niagara area.
William died 27 Feb 1841, in Bertie Twp., at age 60 years and was buried 2 March 1841 by John Anderson, Rector St. Paul's Anglican.
When he died, he bequeathed more than 800 acres of land to and 1000£ to his wife and children.  To his son Nelson, he allowed "whatever money as my executors may recover or receive from Her Majesty's Government for Claims of Damages."  In June 1850 Nelson Forsyth approached the courts once more about raising the claim, but nothing came of it.
His second wife, Jane, died 19 August 1857, at the age of 59 years.
Veteran Summary
William Forsyth(e)
Gunner and Spy, 2nd Regiment Lincoln Militia
Place of Birth
Tyron County, NY, USA
Place of Death
Bertie Township, Lincoln County, ON, CAN
Died on: 27 FEB 1841
Reason: Unknown
Location of Grave
St. Paul's Anglican Church Cemetery, Idylewylde St
Fort Erie, ON, CAN
Latitude: 42.919855N Longitude: -78.913431