Research compiled by the Heritage Arts Legacy of Fort Erie
John Edsall was born February 13, 1787 in Bertie Twp., the son of James Edsall and his wife, Julia.   He was of Scottish descent.
John married Catherine Plato (b. 1792 in Bertie Twp.), daughter of Peter James Plato and Gertrude Catherina Bowen c. 1813.  They had seven children:  Peter (born 1814), William, John Alexander, Charlotte Emeline, Jane, Lyman and Milan.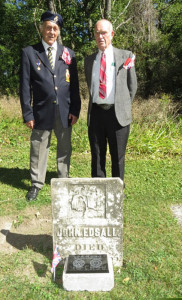 John served in the War of 1812-14 as a Private in the 3rd Regiment Lincoln Militia.  His military service is documented within the National Archives digitized War of 1812 Upper Canada Returns, Nominal Rolls and Paylists  RG 91B7 Mikan 183676 and he is last seen in 1814 serving under Captain Buchner's Company.
During the war of 1812 many citizens suffered damages to their property at the hands of the enemy. John Edsall was one of the claimants, listed as Claim No. 352. He claimed grain, hay, houses and furniture losses caused by the enemy estimated at 115£ 10 shillings. He was awarded 109£.
John died September 6, 1855 at the age of 68 years, 6 months and 21 days.  He was buried in Graham Cemetery.  Catherine (Plato) Edsall died March 11, 1872 and was buried there with him.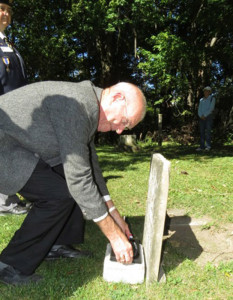 Veteran Summary
John Edsall
Private, 3rd Regiment Lincoln Militia
Place of Birth
Bertie Twp., Lincoln County, ON, CAN
Place of Death
Bertie Township, Welland County, ON, CAN
Died on: 06 SEP 1855
Reason: Unknown
Location of Grave
Graham Cemetery, Rosehill Road
Fort Erie (Ridgeway), ON, CAN
Latitude: 42.90283N Longitude: -78.980367