Research compiled by the Heritage Arts Legacy of Fort Erie
William Cregar was born c1780.  He was the son of Peter Cregar who settled in Bertie Twp. on Lots 4 &5, Conc 7.
William married a lady by the name of Christiana and on June 21, 1808 they baptized two daughters, Margaret and Anna Catherine at St. Mark's Anglican Church, Niagara-on-the-Lake.  On September 15, 1822, William and Christiana had son George baptized by Rev. Ralph Leeming at Chippawa.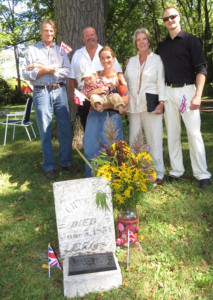 During the War of 1812, William served as a Private in the 3rd Regiment Lincoln Militia, lastly under Captain William Powell.  His military service is well-documented within the National Archives digitized War of 1812 Upper Canada Returns, Nominal Rolls and Paylists  RG 91B7 Mikan 183676, Reel T-10386.
After the war many Bertie Township residents filed claims for compensation for property damages caused by the enemy.   Williams father, Peter Cregar, claimed for damages suffered at the hands of the enemy is listed at Archives Ontario, Claim #347 in Schedule of Claims, Class 2, Township of Bertie, District Niagara.  He claimed one horse taken by the enemy and valued the horse at 20£ 15 pence. Claim was certified by two witnesses. Payment recommended was 15£.
William Cregar appears in the 1828 Census for Bertie Twp. with his wife and eleven children.  The snapshot of the family reveals one son over 16 and four under 16 and four daughters under 16.  According to his last will and testament, his sons were:
John (d 1846  m Catherine Benner)
William
George (m Margaret Barnhardt)
Peter
Benjamin
Three of his four daughters have been identified as:
Christina (m Thomas Spedding)
Margaret
Anna Catherine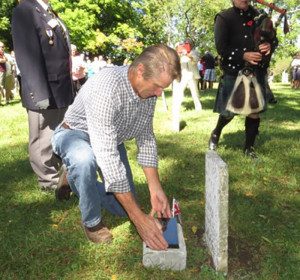 William d 5 June 1851 and was buried in the Little Cemetery Around the Corner from St. John's Anglican, Ridgemount Road, Fort Erie (Ridgemount), Ontario which was renamed the Coloured Cemetery in the 1980s.  He died testate and his Last Will and Testament dated 1849 was probated and registered on his property on January 27, 1852.  Christiana appears in 1851 and 1861 living with son, Peter.  There is no record of her death or her place of burial.
Veteran Summary
William Cregar (Kreiger)
Private, 3rd Regiment Lincoln Militia
Place of Birth
Unknown, ON, CAN
Place of Death
Bertie Township, Welland County, ON, CAN
Died on: 05 JUN 1851
Reason: Unknown
Location of Grave
Coloured Cemetery/Little Cemetery (around the Corner from St. John's Anglican Church), Curtis Road
Fort Erie (Ridgemount), ON, CAN
Latitude: 42.937791N Longitude: -79.003504