Research compiled by the Heritage Arts Legacy of Fort Erie
Jacob Benner, Jr. was born in 1783 and baptized on November 16, 1783 at  St. Paul's Lutheran Church, Red Hook, Dutchess County, New York, USA.  He was the son of Jacob Benner, Sr. and Susannah Pinck.  Jacob came to Canada with his parents in June 1798 at the age of 15 years.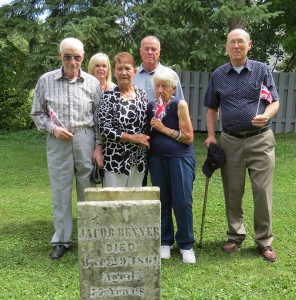 He married a woman named Mary and they had eleven children:
Mary (m Benjamin Troup)
Catharine (m Abraham Beam)
Susannah (m Jacob Michael)
Christina (m Nicholas Michael)
Jacob I. (m Nancy Huffman)
John I.
Phillip I. (m Sophia Plato)
Margaret (m Adam Snider, Jr.)
Elizabeth (m Betsy; Jacob Winger)
Hannah (m Henry Baxter)
Eva (m, Peter James Plato)
Jacob served as a Private in the 3rd Regiment Lincoln Militia commanded by Captain William Powell during the War of 1812-14 and beyond.  His military service is documented within the National Archives digitized War of 1812 Upper Canada Returns, Nominal Rolls and Paylists  RG 91B7 Mikan 183676.
The family has a document dated June 3 1819 stating surgeon Benjamin Hall is certifying Jacob temporarily unfit for military service because of a tumour contiguous to his right shoulder blade.  He was excused from training by Lt. Col. Henry Warren.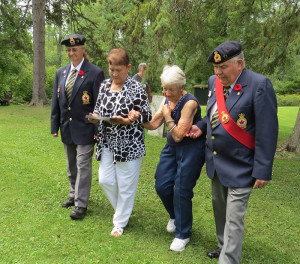 After the war many Bertie Township residents filed claims for compensation for property damages  caused by the enemy.   Jacob Benner's claim for damages suffered at the hands of the enemy is listed at Archives Ontario, Claim #340,  in Schedule of Claims, Class 2, Township of Bertie, District Niagara.  He claimed [illegible], grain and 28 hogs taken by the enemy and valued them at  112£. Payment recommended was 100£.
Upon the death of his father in 1817, Jacob acquired the title to his father's property on Lot 1, Conc 6, Bertie Twp.  Besides farming, Jacob was a blacksmith.  The family also ran a custom weaving business, which was chiefly run by the Benner women.
In 1852 Jacob purchased a 50 acre parcel Lot 13, Conc 3. Jacob died March 29, 1861 at the age of 77 years.  His wife, Mary, died January 27, 1863.  Her year of birth is 1785 and she was born in the US.  Both were buried in the Benner Family Cemetery which is located on Lot 24, Conc 2 LE in Bertie Twp.
Family Links: Brother of Phillip Benner
Veteran Summary
Jacob Benner
Private, 3rd Regiment Lincoln Militia
Place of Birth
Red Hook, Dutchess County, NY, USA
Place of Death
Bertie Township, Welland County, ON, CAN
Died on: 29 MAR 1861
Reason: Unknown
Location of Grave
Benner Family Cemetery, Nigh Road
Fort Erie (Ridgeway), ON, CAN
Latitude: 42.893613N Longitude: -79.056733