Research compiled by the Heritage Arts Legacy of Fort Erie
Josiah Bearss was born in 1792 in Connecticut, the son of David Bearss and Rhoda Richmond.  He came to Canada with his parents and ten siblings in 1793, settling in Humberstone Twp.

During the War of 1812-14, Jos Bearss served as a Private in the Lincoln Militia.  Although we have searched in the National Archives digitized War of 1812 Upper Canada Returns, Nominal Rolls and Paylists, RG 91B7, Mikan 183676, through all existing records for the 1st to the 5th Regiments of the Lincoln Militia and we have not located Josiah's service.  His name does appear in government documents as being eligible for a special pension of $20 from the Dominion of Canada as a veteran of the War of 1812.  This can be easily viewed in Eric Jonasson's book, Canadian Veterans of the War of 1812, Wheatfield Press, 1981, as Jos(eph) sic Bearss of Ridgway, Private, Lincoln Militia.
Josiah first married Margaret Kinzie in 1815 and they had 19 children, as follows:
John
Mary (m Isaac  Schooley)
William
Thomas (m Almira Casler)
Nelson (m Rhoda Schlomiltz)
Abraham
Daniel (m Eliza Jane Jansen)
Edmond
Abel
Huldah (m Peter Harrett)
Lucinda (m Kenneth Smades)
Orella (m Flagg)
Rebecca (m Vanderveer)
Nancy (m Nelson Cook)
Jefferson
Benjamin (m Caroly Smades)
Eliza (m Vanderveer)
Sarah Ann (m John Kilmer)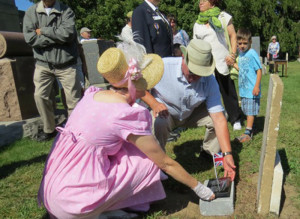 Following Margaret's death, Josiah remarried Barbara Near (Morningstar) on October 10, 1871 at Fonthill.
In Bertie Twp. Assessment Records for 1870 and 1875, as well as the Voter's List for 1874 we find Josiah living just outside Ridgeway, on Lots 27 & 28, Conc 3 Lake Erie.
He died March 4, 1879 and buried at Zion Cemetery.
Veteran Summary
Josiah Bearss
Private, Lincoln Militia
Place of Birth
Unknown, CT, USA
Place of Death
Bertie Township, Welland County, ON, CAN
Died on: 06 MAR 1879
Reason: Unknown
Location of Grave
Zion Cemetery, Garrison Road (Hwy #3)
Fort Erie (Ridgeway), ON, CAN
Latitude: 42.904109N Longitude: 79.038687