Isaac Hodgkins Jr. was born 15 February 1796 in United States, possibly New York State since his family lived in both Dutchess and Westchester Counties. He was born to Isaac Hodgkins Sr. & his wife Catherine. The family came to Upper Canada circa 1801 and settled in Pelham Twp., Lincoln Co.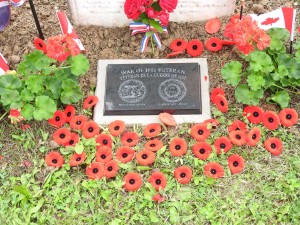 During the War of 1812, Isaac enlisted with Captain George Keefer's Company and then in Captain Rorbach's Company, both of the 2nd Regiment, Lincoln Militia. As well, two of his elder brothers served within this same regiment.
Isaac and his younger brother James were Privates in Captain Henry Nixon's Company of the Lincoln Militia in 1818.
Isaac married Mary Robins/Robbins (1796-1866) about 1818. Together they had 18 children: Eleanor, Daniel, Nelson, Rachael, Cordelia, Dilly Catherine, Marinus, Lemuel, Olive, Thomas, Matthias, Mary Ann, Susan, Rebecca, Freeman, Leonard, Lydia, and twins who died at birth.
In 1831, Isaac and his family purchased property at lot 10 con 5 in Gainsborough Twp., Lincoln County. He purchased 100 acres from George Johnson who held the Crown Grant dated 15 March 1813. Isaac's eldest brother William was a witness to the transaction. Isaac farmed there until his death.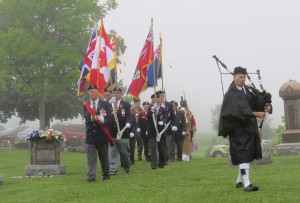 Isaac passed away at home 13 September 1867. He, Mary and three of their sons, are buried at Lane's Cemetery located on the Twenty Mile Road near St. Ann's, Ontario