Joshua Adams built the Glen Tay mills that were situated on the Tay River in Glen Tay, Ontario, Canada.
He was born in Rutland, Vermont, USA, 5 May 1780.  He came to Canada with his parents and other United Empire Loyalist families in 1798 and settled in Bastard Township, 20 miles north of Brockville, Ontario, Canada. Joshua married Elizabeth Chipman whose family was also of UEL stock, from Vermont.  The couple had nine sons and four daughters.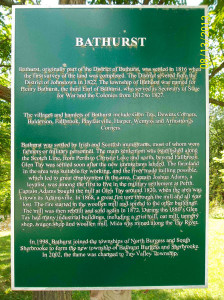 When the War of 1812 broke out Joshua received a Captain's commission with the 2nd  Regiment Leeds Militia, and also acted as Adjutant through the conflict under Colonel Joel Stone. This militia consisted of 336 men, and were organized into eight companies each under a captain.  At the beginning of the war the militia was posted to Gananoque, Ontario, the last stop for allied ships moving up the St. Lawrence to Kingston, to protect these convoys.  It was during this time that Joshua moved his family five miles north to the new village of Stone Mills, now known as Delta.
The militia's first campaign developed on 12 Sept 1812, when an American force attacked from Cape Vincent, landing at Sherriff's Point near Gananoque.  Joshua was present at the Raid of Gananoque; he being garrisoned there.  The Americans were spotted by two militiamen who were on horses, so they quickly turned their mounts around and raced into the village to spread the word of the invasion.  One was shot on the way and the other made his escape.  When the alarm was sounded, villagers, farmers, and militiamen alike, grabbed their weapons and sprinted off to a location known to all as a result of earlier drills.  They formed a line, bravely approached the enemy, and fired a volley which did little damage due mostly to lack of training and inexperience since most of them were not professional soldiers.
Joshua and his comrades put up a good fight but it was not good enough.  The Americans were not going to wait to be shot at again and charged the militia, who broke apart and ran for their lives down King St. toward the Gananoque River, all the while being targeted by musket balls.
Next, the Americans approached Col. Stone's house, shot into it and wounded Mrs. Stone.  With only half as many men as the Americans had, the 2nd Leeds was forced to give up the government stores (arms, ammunition, and food) they had been guarding, and watched the depot burn!  Several other properties were burned as well.  With the whole raid over in 30 minutes, the Americans left for Sacketts Harbour with their stolen supplies, and being quick about it too, in case Kingston got word.  Word did reach Kingston and troops were dispatched but the Americans were long gone by the time the reinforcements arrived.
Needless to say, the next task for the militia was to begin construction for a blockhouse to ward off this kind of attack in the future.
During the remainder of the war, Joshua Adams' regiment were posted to garrison duty at various locations along the St. Lawrence.  By 1814, there were 37 men in Joshua's company.  It appears that no casualties had been listed for his company.
Following the war, Joshua returned to reside with his family.  Two years later he received 800 acres, at least some of it, if not all of it, in the present day Lanark County in return for his service to his country. This grant was based in part on a certificate provided by his Colonel, Stone.  Joshua sold his properties where he had been previously living and moved his family to the Town of Perth, Lanark County, which had been designated as one of the newly opened Lanark Military Settlements.  On his officer estate lot he built a new home for his family and one of the first inns in the village.  He remained a half-pay officer on reserve duty (which ended in 1821).
In 1820, a property became available on the Tay River (Lot 20 Conc2 Bathurst Township, Lanark County) three miles upstream from Perth that offered good opportunity for water powered mills.  He moved his family to this new location, and over time built a complex of mills (grist, oat saw, woollen, as well as a tannery, store, several shops, and logging operations) that became, at one point, the largest in the region.  The immediate area came to be called Adamsville, and later Manion, and now presently Glen Tay.  The mills employed hundreds of workers, some of whom he is said to have housed in his own home.  An apartment building (dormitory) built to house the employees is still in use locally as a barn, although it is no longer in its original location. Tweeds manufactured by Joshua's mills won first prize in the first Industrial Exhibition in Toronto and also in the Dominion Exhibition at Ottawa in 1879.
Joshua's Georgian style stone cottage and his large stone sawmill across the road have been renovated and are maintained as private residences and are classic examples of early 1800 architecture and industry.
Joshua's contribution to Canada and the community was more than industrial. He was at various times, a Justice of the Peace, a municipal councillor, county warden, associate judge, and trustee in the local Methodist church.  As a devout Methodist he sponsored a Methodist and cemetery on his property, provided support to the development of the local church, and eventually to the Methodist (now St. Paul's) cemetery, in Perth.  He was known for his charity, compassion and caring for the less fortunate.   His milling enterprises provided employment to the community, and made available much needed products and services to the settlers.  It is also important to note that when sawmilling and wool processing died out in the lat 1800s, the sawmill Joshua built was converted to the new industry of electricity production, in 1897, to supply the Town of Perth.
Joshua's children grew up and, became or married, mill owners, lawyers, bankers, politicians, ministers, and missionaries and their descendants are scattered across North America.
Joshua Adams died at the home of his son-in-law, in Perth, 3 April 1863 from complications of a broken leg he suffered as the result of an accident.  His funeral cortege was one of the largest in the Perth area and led by local militia. Three volleys were fired in his memory by the firing party.  He is buried at the Old Methodist Burying Ground, in Perth presently known as St. Paul's United Church Cemetery, Robinson Street with his wife.  He was 84 years old.
Sources
This application is supported by:
Perth Historical Society, Perth, Ontario, Canada (a not-for-profit community association documenting the history of the Town of Perth and local municipalities)
Royal Canadian Legion, Branch 244, Perth, Ontario, Canada
St. Paul's United Church, Perth, Ontario, Canada
Adams Family descendants
Veteran Summary
Joshua Adams
Captain, 2nd Regiment Grenville Militia
Place of Birth
Rutland, VT, USA
Place of Death
Perth, ON, CAN
Died on: 03 APR 1863
Reason: Complications of a broken leg.
Location of Grave
St. Paul's Old Methodist Burying Ground, Robinson St
Perth, ON, CAN
Latitude: 44.8966N Longitude: -76.2367