William Hutchins I is my third great grandfather. He was born in Dorchester, Dorset, England in 1748. William connected with a Pennsylvania Quaker family, that of Ezekiel Dennis and Ann Heacock Dennis. This family pulled up roots in Rockhill, Pennsylvania and crossed the Niagara River at Fort Erie, in 1782.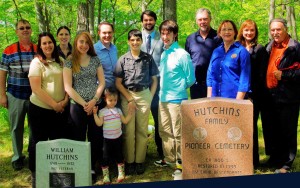 By 1794 when the Dennis family moved to Clinton County, William Hutchins was part of the family. He had married the Dennis' eldest daughter, Amy in 1788 when she was fourteen and he was forty. This was not an uncommon age difference at these times.
The Hutchins family tombstone in their Pioneer Cemetery, states that William Hutchins served his King and country for sixteen years as a seaman and a ship's carpenter. The King's Navy Yard in Amherstburg opened in 1796.  William worked there from 1797 to its closing in 1813, due to the British defeat at the Battle of Lake Erie, when it was burned and abandoned. A variety of vessels were built at the King's navy yard: small bateaux to large three-masted ships rigged as man-of-war.
Prior to the British defeat on Lake Erie, this ship yard was very important as a naval station for both Lakes Erie and Huron and the ships built here enabled the British to play a strong defensive role during the War of 1812.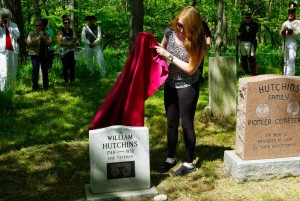 William Hutchins is listed as a private in Colonel Caldwell's company in 1813. He was 65 years old by this time but would have been valued for his carpentry skills and his knowledge of the waterways in the Lake Erie/Detroit River area.
William Hutchins petitioned for land for his service during the time he worked at the King's Navy Yard. He was granted 141 acres on Lot 83, Colchester, in 1803. That is the location of the Hutchins Pioneer Cemetery that is down a pathway, off the Cornwall Beach Road and in the corner of a field, beneath a grove of trees.
This cemetery is protected by the county and every year a path is mowed by county workers.  A team of volunteers have banned together to keep this pretty little cemetery in good shape.
The Hutchins' descendants gathered together in 1999 to purchase a large red granite family stone that was set in the centre of the cemetery. The family's names are etched on this new marker. Otherwise, there is a broken white marble stone belonging to William I and two good looking stones belonging to William II and his wife Hannah Brush Hutchins.
It is widely known that the local cottagers took cemetery stones to make walkways long ago. The cemetery has been examined by Ken Turner, a cemetery expert, who is also the founder of The Preservation of Pioneer Cemeteries in Ontario. He determined there are at least forty family members who have been buried here.
All of William Hutchins' children married within the Michigan and/or Essex County area. They became expert yeomen or farmers in the south west part of the county. It is written in a recent book, Southern Exposure by Gary May, that Eugene Whelan, MP and Minister of Agriculture during the Trudeau years, stated that my father, Edwin Hutchins had the best farm in the county. That is high praise.
All this attention to detail and pride in ones' work goes back to William Hutchins I who was proud of his work as a ship's carpenter and a seaman and this translated down the generations to a family who worked with their hands to craft a proud living off the land.
William Hutchins & Isaac Ferriss Ceremony, Harrow News article
Veteran Summary
William Hutchins
Private, Flank Company 1st Regiment Essex Militia
Place of Birth
Dorchester, Dorset, England
Place of Death
Colchester, ON, CAN
Died on: 11 NOV 1832
Reason: Likely Old Age
Location of Grave
Hutchins Pioneer Cemetery, Cornwall Beach Rd.
Colchester, ON, CAN
Latitude: 42.001976N Longitude: -82.961848